Maintaining a clean office benefits both clients and employees, which is why choosing a commercial cleaning company is of utmost importance. A messy office reflects poorly on a company and hinders the productivity of employees, so our useful guide is here to help you choose the best cleaning company for your needs.
Choosing a commercial cleaning company: where to start
Before deciding on a commercial cleaning company to hire, it is vital to do some extensive research. Selecting a commercial cleaning company is similar to interviewing candidates for a job role. You wouldn't hire the first person that walks through the door; you would consider all applicants, weigh up the pros and cons of each, and then decide who is best suited for the role.
The best way to narrow your search down is to read customer satisfaction reviews online or even ask for references from companies they have previously worked for. This is a great way to find out if the cleaning company provided a satisfactory service and if their employers would recommend them.
There are also a lot of other factors which you should take into consideration when deciding on the perfect commercial cleaning company. We have listed these below to help make the process easy and stress-free for you.
Deciding what cleaning services you need
Different companies offer many different services, so it is vital that the company you choose can fulfil your needs. You should devise a checklist of what cleaning needs to be done in your office and find a company which complies. Your list could include:
Interior and exterior cleaning
Sanitizing cleaning basins and kitchen appliances e.g. microwaves and fridges
Vacuuming
Mopping
Emptying and disposing of bins and trash
Polishing tables and other work surfaces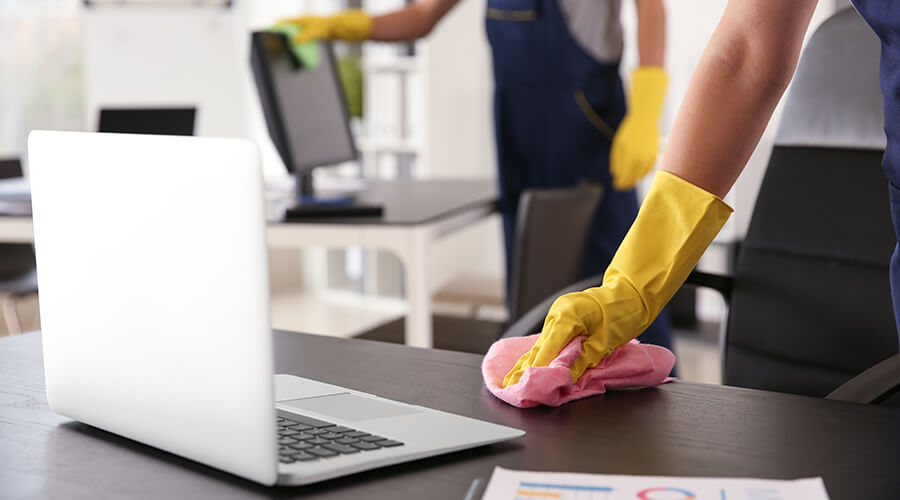 Is a commercial cleaning company necessary?
Before investing in a cleaning company, you should ask yourself if you really need one. You may find some companies cleaning services are limited to hoovering and polishing the desks, but this is something you or your other employees could do. There are many cleaning hacks you can use to keep your office tidy without having to waste money on a commercial cleaning company.
If you have post-it notes lying around, you can use these to keep your office clean! When working with computers daily, your keyboard can easily become covered in crumbs, grease, sticky stains or dust. Using the sticky side of the post-it note, you can swipe it between the small crevices of the keyboard to remove any dirt.
For other office cleaning duties, such as cleaning the desks, this can easily be done by yourself or others in the office. This multi-surface spray can be used in various places in the office and works by absorbing dirt rather than chemically degrading it. It is eco-friendly and available in a delicate pink grapefruit fragrance which is guaranteed to keep your office smelling fresh and sweet.
To ensure you have covered all areas of the office, you could even invest in a handheld vacuum cleaner. Books, filing cabinets and computers are all prone to attracting dust, so using a handheld hoover regularly will keep your office clean at all times.
Reviews
As aforementioned, the best way to find a credible commercial cleaning company is to read reviews. If you are unsure where to find reviews, there are many social media platforms you can utilise. You could visit the company's website and read their client testimonials, or you could read reviews on their facebook page. Word of mouth is also a good way to find a suitable cleaning company. If you work in a building with other offices, ask around and see what cleaning company they use.
Flexibility and reliability
Your commercial cleaning company must be able to work at appropriate times that do not cause a disruption to the day-to-day working duties of your business. It is likely you will want your office cleaned early in the morning or late in the evening when employees are not around. For this reason, your cleaning company needs to be completely flexible in order to fit in with your companies work schedule. A reliable service is also crucial as it could impact the efficiency of your business.
Quality of staff and service
Just like any other person you employ, you want your cleaners to behave in a professional, polite and friendly manner because they are, to an extent, representing your company. All staff should also be trained to the highest standard to guarantee a satisfactory cleaning service.
In terms of the service the company provides, you should inquire if there is a set checklist they must follow to ensure all areas of your office are thoroughly cleaned. You should also review their list of services to see if they can fulfil all the cleaning duties you require, for example, carpet cleaning. Carpet cleaning Milton Keynes consists of an expert cleaning team who use their professional skills and equipment to rejuvenate your carpets and remove stubborn stains.
Health and safety
Health and safety in the workplace are of course, extremely important, especially in offices populated by a lot of people on a daily basis. You should check that your cleaning contractor carries out regular risk assessments to ensure all staff are knowledgeable and fully trained in the latest developments to health and safety legislation. It is also vital that all cleaning equipment is serviced and maintained for the safety of the cleaners and other employees in the office.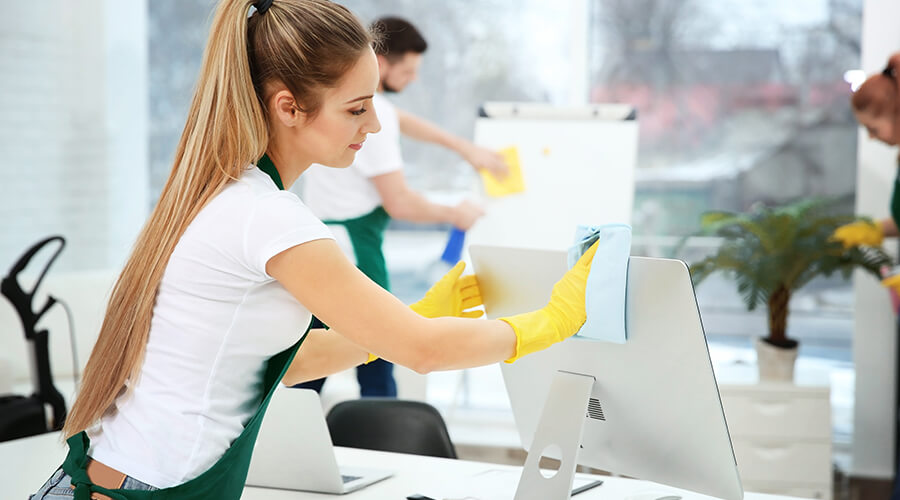 Value for money
There are many factors which impact the cost of commercial cleaning, so it is important you acknowledge this when deciding which company is the best value for money. For example, most commercial cleaning companies can clean a variety of property types, including factories, warehouses and medical facilities. For these locations, it may be necessary to use special equipment or cleaning products to guarantee a sanitary working environment, therefore increasing the cost of service. Prices may vary depending on other factors as well, such as:
Frequency of cleaning services
Size of the area that needs cleaning
Location
Experience
Choose a local company
If possible, you should try to select a commercial cleaning company with a local office or local headquarters. If the cleaning company is close to your office location, a crew can be sent quickly if needed. Commercial cleaning Milton Keynes provides a fast service, boasts over 15 years of experience and are fully accredited, so a top quality cleaning service is guaranteed.
Other than for convenience, supporting local businesses has many other benefits, such as boosting the local economy and creating more jobs in the local area.
A clean office = A successful buisness
A clean working area safeguard's your employee's health, increases focus and productivity and also reduces long-term wear and tear refurbishment costs. For this reason, you should take the time to carefully consider what commercial cleaning company will benefit your business the most.