Having finally passed the peak of the coronavirus outbreak, as a nation, we can now see the light at the end of the tunnel after weeks of uncertainty. While the thought that life may begin to return to normal over the upcoming months is exciting, it is imperative that strict precautions are put in place to prevent a second outbreak. We must ensure that we remain protected, even in the final stages of the pandemic, particularly when we start to return to the workplace.
With this in mind, regardless of whether you are a business owner or employee, working as a team will become more important than ever. Not only must you keep yourself safe when returning to work but also those around you. There are many different straightforward practices that you can implement to create a risk-free environment for your business, so here we run through our guide on creating a safe workplace as lockdown measures begin to relax.
A Guide On Creating A Safe Workplace Post-Lockdown
There is no denying that, over the past few months, the world has been a very scary, uncertain place to live. Life as we know it has dramatically changed and we have been restricted from doing things that we most likely took for granted before the pandemic. However, after weeks of not quite knowing what lies ahead, we can finally begin to see a sense of normality eventually returning, one of the biggest being returning to work.
While, for most, getting back into the office is a relief, it most definitely doesn't mean that we can forget about remaining protected against COVID-19. Businesses can begin slowly transitioning back to normal, providing that they continue to stick by government guidelines. If you are worried about how to do this, then we suggest beginning with the following: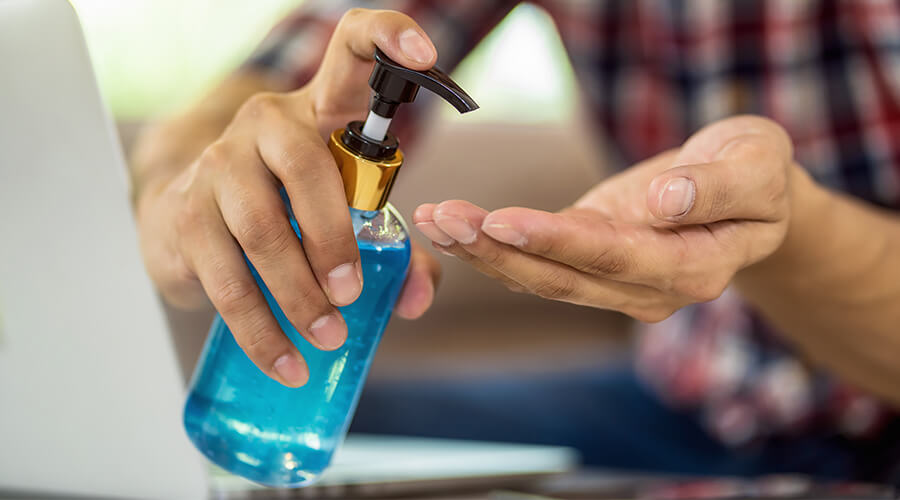 Maintaining a clean, hygienic workplace is always vital, but even more so when failing to disinfect a surface may put your employees at significant risk of catching a life-threatening virus. According to information published by the World Health Organization (WHO), the coronavirus can live on a plastic surface for up to 72 hours, a cardboard up to 24 and stainless steel for 4. This means that, regardless of whether you have any employees showing symptoms or not, the entire workplace must be disinfected regularly.
Research has shown that the virus can be killed using any standard household disinfectants, so you must ensure that you are fully equipped with supplies before allowing any employees to return. Surfaces can be cleaned either using disinfectant wipes or a disinfecting solution sprayed onto disposable cloths. Try to stick to using products that can be used and then thrown away immediately after coming into contact with surfaces. If you cannot get your hands on any disinfectant products, then you can create an alternative based on the ratio of five tablespoons of bleach to one gallon of water – this is also capable of killing the virus.
Once employees have returned to work, they must have responsibility for their work station. At the end of each day, encourage team members to allocate 5 minutes before they leave to clean their desk thoroughly. Pay particular attention to areas which have been in direct contact all day, such as mouses, keyboards, armrests on chairs and buttons on devices.
Along with the above, it is also essential to schedule professional deep cleaning. Although wiping down surfaces after use and cleaning at the end of each day is an effective way to control the spread of germs, you cannot be entirely confident that all have been killed without expert assistance. Having specialised in commercial cleaning in Milton Keynes for many years, we are offering contracts to businesses based on their requirements. Various services can be included, such as carpet cleaning and even regular washroom supplies. Many of our clients who have contracts with us for office cleaning in Milton Keynes and the surrounded areas have scheduled a deep clean visit before they reopen, along with weekly appointments thereafter. If you are in need of professional cleaning services, then please do not hesitate to contact our team, who have continued to operate throughout the pandemic.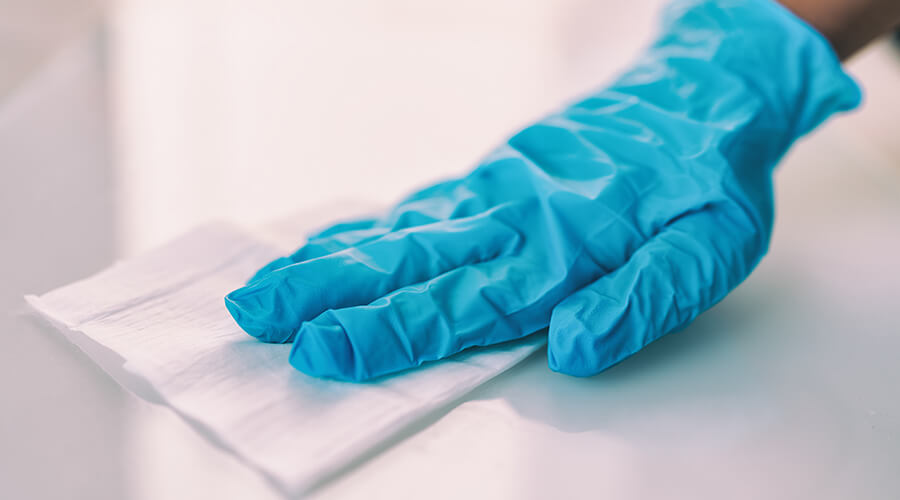 Although there has been no confirmation on how long social distancing measures will last for, what we do know is that even after the lockdown is lifted, we will still need to remain two metres apart. This is key in minimising the risk of a second wave of the pandemic and will be crucial in protecting your employees.
In light of this, before giving team members the go-ahead to return to work, you must ensure that the office has been reconfigured to comply with distancing guidelines. At first, this may seem a tedious task, especially if you are restricted in terms of space, but there are solutions. To correctly practice social distancing, each workstation or desk should be placed two metres (6 feet) apart. One of the most straightforward ways to do this is to move tables to the walls so that employees will have their backs to the wall and facing the centre of the room. You would most definitely benefit from drawing out a plan with dimensions before going ahead. Any layouts which involve individuals working within close proximity of one another should be avoided.
We recognise that not all workplaces can accommodate team members sitting two-metres from each other due to lack of space, so in this instance, you will have to create barriers. Once you have determined a layout that ensures that desks are separated as much as possible, you can begin to set up cubicles. The cubicles will act as a shield between employees, adding an extra layer of protection if you are unable to be two metres apart. Even those who can effectively social distance in the office should consider these to minimise further the risk of germs spreading.
If you are looking to order desk barriers, then we suggest taking a look at Tecna UK, who have designed a range of solutions specifically to comply with social distancing measures. Desk dividers, partitions and walling are all available; each of which can be self-built to create a temporary shield between team members until you can return to normal. For those who do not have the budget for these or need cubicles urgently, you can attempt to make your own using sheets of cardboard or large pieces of wood.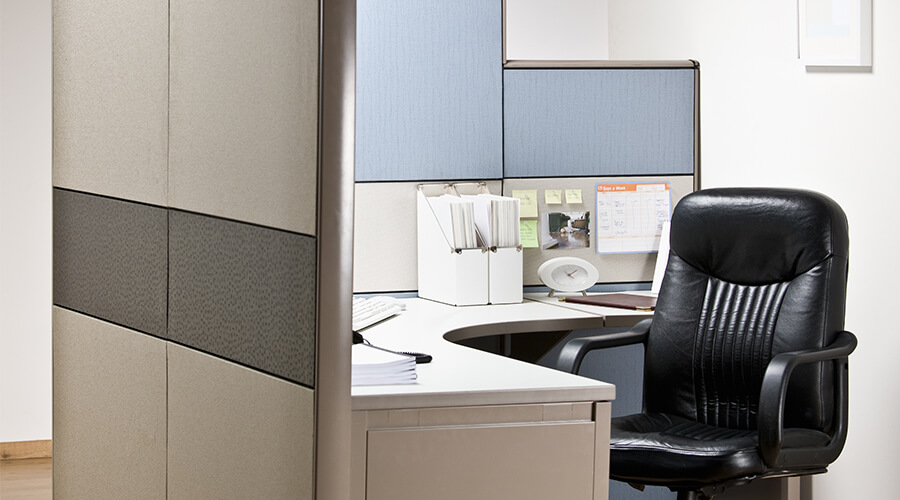 Along with workstations, another way that you can comply with social distancing measures is to implement a one-way system around the office. This is something that many businesses have adopted, particularly supermarkets, to avoid individuals from having to pass one another. Again, this may be trickier in a smaller environment but will be easier than reconfiguring desks as you will only need to create small pathways.
Using floor tape, create walkways leading to all essential areas of the building, for example, from the office to the kitchen or toilet. These should also be placed around the office for those who enter and leave. If you have two doors, then we would highly recommend using one only for entering and another only for leaving. Should it be possible, also keep these open at all times to prevent employees from having to touch the handle. Just like the desks, the paths laid out on the one-way system must be two metres away from each other.
While there has been no clear-cut decision as to whether masks are able to help in protecting you against the coronavirus, it does provide many with the confidence to head back to work. Implementing measures such as distancing workstations, deep cleaning, and one-way systems are by far the most important; however, you may also benefit from ordering some protective masks for those who would like to wear one. You could also consider asking employees to wear a mask if they pop out of the office throughout the day. For example, many go to the local supermarket during their break to pick up some lunch, so in this instance, you could provide them with a mask to wear then throw away before they re-enter the office.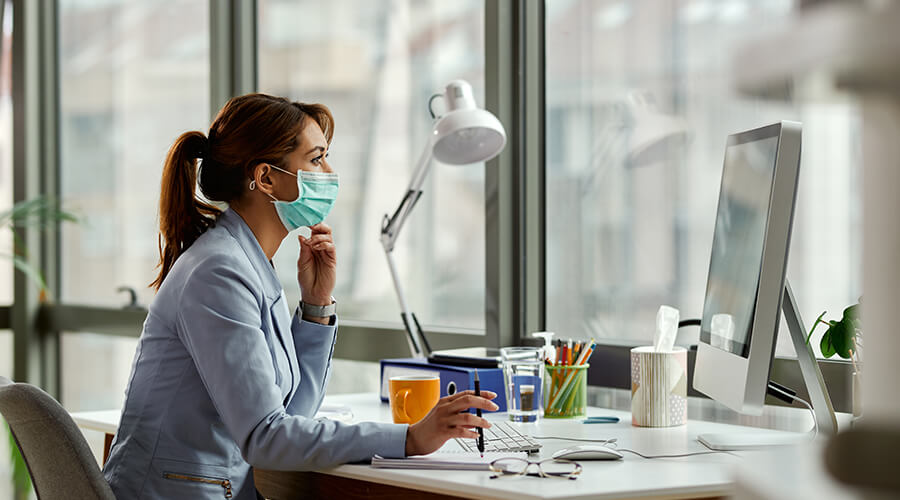 We are all aware that all bacteria and viruses, not just COVID-19, can travel through the air. For instance, if someone has the standard winter cold and they sneeze, small droplets filled with germs disperse into the surrounding air then rests on surrounding surfaces. Due to this, environments which have poor circulation are known for causing viruses to spread, even more so if it is crowded.
With this in mind, when you return to the workplace, it is imperative that air can effectively circulate around the space. If you have windows, then while it may make the office colder, keep these open throughout the working day to allow plenty of fresh air to seep in. For those who do not have opening windows, on the other hand, we recommend increasing the airflow and overall circulation on your air conditioning unit.
While you have probably heard it hundreds of times by now, washing your hands does remain one of the most effective ways to protect yourself and others from the coronavirus. Thoroughly washing your hands either using soap and water or antibacterial gel does kill any viruses on your hands. This means that you must ensure that all employees are regularly washing their hands, particularly:
Before entering the office
After returning from a public outing
After being to the bathroom
Before eating
Before, during and after preparing or cooking food
After sneezing, coughing and blowing your nose
After handling cash or coins
To ensure that all germs have been killed, it is crucial to follow these steps every time that you wash your hands:
Wet your hands under warm running water and apply soap.
Lather the soap by rubbing your hands together, ensuring that every spot has been covered – take a look at WHO for a photo tutorial of the most effective technique to do this.
Continue to scrub your hands for at least 20 seconds before rinsing under running water.
Dry your hands using a disposable paper towel.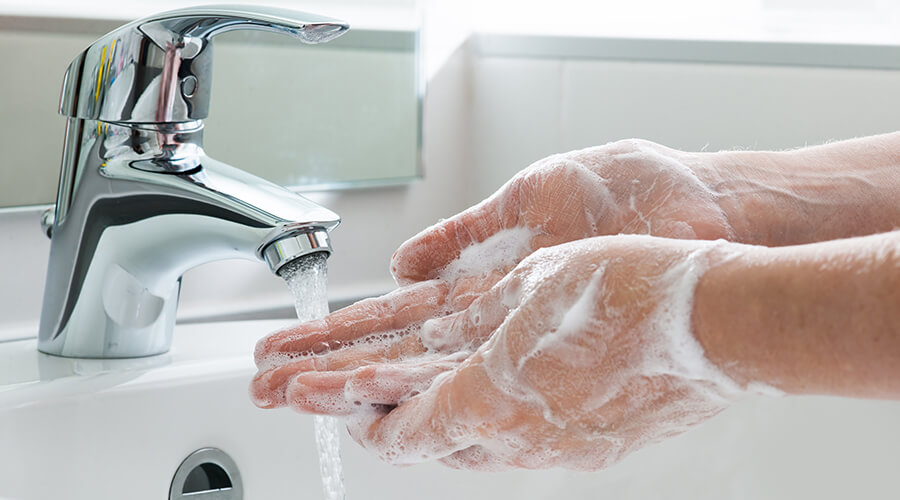 Working in an office together every day is likely to mean that you share a considerable amount of equipment, anything from headsets to cutlery. However, until there is no longer the risk of infection, it is of utmost importance to ensure that items are no longer shared between team members, especially those that are near to the face. Everyone should have their own set of equipment or supplies and only use these. We would also highly recommend asking employees to bring in their own food, drinks, cutlery, mugs and dinnerware to prevent anything from becoming contaminated.
While on the topic of food and drink, to avoid crowds of employees in staff rooms or kitchens, many companies are asking their team to eat their lunch at their desk. This will ensure that each individual spends their day in just one spot, minimising the risk that they come into contact with a contaminated surface.
Working Through The Pandemic As A Team
To ensure that your workplace remains safe and employees are protected, working as a team will be key. Everyone must take responsibility for their actions, ensuring that they help in reducing the risk of germs spreading. Before inviting anyone back into the office, the space must be prepared, taking into consideration social distancing guidelines and hygiene standards. If you need any assistance in this, then our team would always be more than happy to help. Whether you require office cleaning in Buckingham or any of the surrounding areas, we are just a phone call away!