Since establishing many years ago, we are proud to have built an excellent client base of fantastic businesses in Milton Keynes and the local areas. We care deeply for each and every client, along with our incredible staff, and truly appreciate their continued support. So, what better way to express our gratitude than by hand-delivering them some goodies!
We Spent The Day Hand-Delivering Chocolates!
Every Christmas, we stock up on tons of treats and use our vans to deliver chocolate to each of our clients. The photos below show just half of the items we dropped off! This is the perfect opportunity for us also to catch up with the wonderful local businesses we have built strong relationships with.
Behind our cleaning and maintenance services is also a hardworking, dedicated team, so it is only right that we also drop off treats for our staff to enjoy during our travels. It's always great to show our appreciation for all of their hard work, even if it is just something small to brighten their day!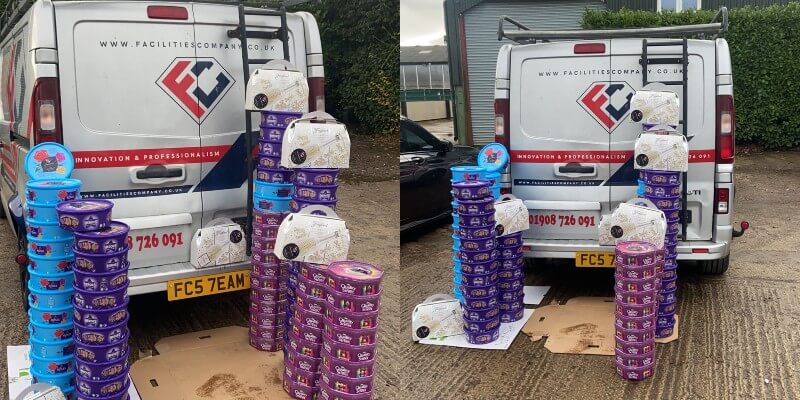 Are You Interested In A Bespoke Contract?
If you are a local business looking for reliable commercial cleaning in Milton Keynes or bespoke maintenance packages, please do not hesitate to get in touch with our office team. We offer a one-stop-shop to meet all of your needs, from ongoing cleaning contracts, including carpets and windows, to landscaping and site clearances. You can find a host of examples of how we have tailored our services to our clients over on our case studies page.