Whether you're working from home on your laptop or sitting in front of your computer at work, the screens, and the keyboards, can get extremely grubby. From fingerprints to dust build-up, there are so many germs and debris that can fester on your devices, making them one of the first places that you should clean frequently. However, computer screens are extremely delicate, which means that you need to take care when giving them a clean. Anything from the pressure you apply to the products you use can damage your screen permanently, so it is important to know exactly how to clean a computer screen. Luckily for you, our experts have been providing cleaning services such as our office cleaning in Milton Keynes for many years, so we have a host of advice to help you clean your items.
Request A Call Back
We'll be back in touch with you as soon as possible!
A Guide On How To Clean Computer Screen
A computer screen can catch just as many germs as your desk, so making sure that you clean it will minimise your chances of getting ill; this is particularly the case in offices where you share computers or laptops. However, there are many products and techniques that are abrasive, causing more damage than good. It is important to equip yourself with the knowledge, tools and products you need to ensure that your computer is well cleaned without causing any damage.
We have pieced together a handy guide on how to clean your computer screen, including the best products to use for your computer type: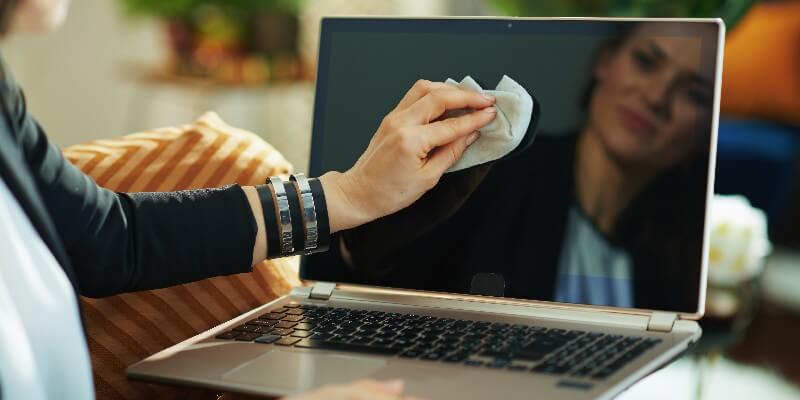 What you may not realise is that the type of computer screen you have will determine the method that you use, so the first step to cleaning your computer is figuring out what material your screen is made out of. There are two different types of screens:
Glass-coated screen – these screens are a little less delicate compared to their alternative and can be found on modern computers such as the new iMac and MacBook. As these are not as delicate, you may be able to use mild cleaning solutions such as rubbing alcohol on the screen.
LCD or LED screen – unlike glass-coated screens, LCD or LED screens are harder to clean. Annoyingly, they are the most common form of computer screen and are almost always found on laptops. For this reason, you will need to take extra care when cleaning this type of computer screen.
As there are a vast range of laptop and computer brands and models, if you are unsure what screen you have, then it is always best just to follow a delicate and cautious routine when it comes to cleaning.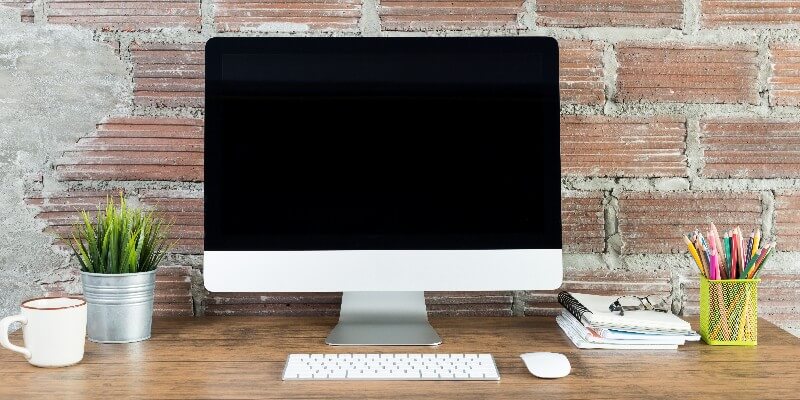 Once you have figured out what screen you have, it is then time for you to work out what products will be best for your screen. There is a wide selection of products that are available, some of which have been specifically designed to clean computers. Below we have collated the best products for you to use in order to achieve to best results.
There are two types of cloth that you can invest in for cleaning your computer screen; either a microfiber cloth or a specially designed wipe. Microfiber cloths are known for their softness and ability to clean without leaving scratches, so they are great when paired with other products and are also excellent for getting rid of smears after you have cleaned your computer screen. On the other hand, you could invest in some electronic wipes that have been specifically designed for electronic devices such as laptops, computers and even phones. Wipes are also designed to work with LCD screens, so you don't have to worry about damaging your screen.
The best cloth for cleaning computer screens include:
As discussed, you need to take extra care when spraying and washing your computer, as certain chemicals can cause damage to the components. For this reason, it is highly recommended not to use soapy water, glass cleaner or anti-bacterial sprays as this can leave marks and stains on the screen. Instead, use computer screen cleaners that are designed with special chemicals to ensure that they do not cause any damage to the screen. You can find a host of sprays online and in your local stores, such as Q-Connect Screen & Keyboard Cleaning Fluid and Microban Antibacterial Multi-Purpose Cleaning Spray Fresh.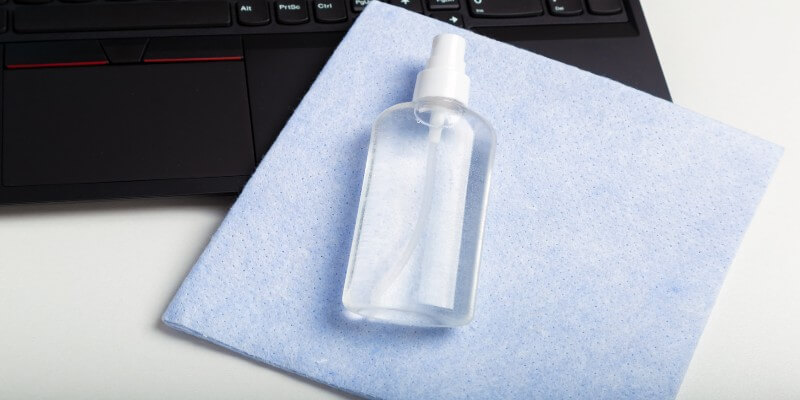 Whether you use wipes or sprays, there is a certain way that you should clean your screen to avoid damage. We always recommend completing this after your day of work, ready for the next day, as this will allow you to air dry the screen to avoid leaving streaks. Please find our mini-guide on how to clean your screen below.
The best way to clean computer screen:
Turn the device off – To ensure that you complete your cleaning safely, be sure to turn your computer off. This will also make it much easier for you to spot dirty areas on a black screen.
Clean device of dust – Use a microfiber cloth to wipe off all the dust from your computer before cleaning your device.
Wipe with a wipe or spray – If you are using a spray, then make sure to spray this onto a cloth before wiping the computer, as putting too much spray on the screen can cause damage. Continue wiping until you can no longer see any marks on the screen.
Use a microfiber cloth and air dry – Use a microfiber cloth to take off the excess product and then leave the computer or laptop to air dry.
One of the most stubborn things to clean are fingerprints, and in some cases, no matter how much you use your microfiber cloth, the fingerprint either doesn't budge or smudges. The reason fingerprints leave a mark on your computer screen is because of the natural oils on your fingertips, which is why they can be so stubborn to remove. If you are wondering, 'how do I clean fingerprints off my computer?', then the answer is a lot simpler than you think. Depending on the screen type that you have, you can use a pre-moistened alcohol wipe to get rid of the fingerprint stain, or even better, your special computer cleaning wipes can easily get the fingerprint marks off your screen!
A Clean Environment Is A Health Environment
Not only are there several nasty bugs that you could catch in an unsanitary environment, but there is also the threat of COVID-19. This makes it even more important than ever to ensure that your desk and working station is clean from germs and bacteria. If you would like to ensure that your office is kept clean, then why not give our team a call to book your bespoke commercial cleaning in Milton Keynes? Our experts can also help with a range of commercial maintenance in Milton Keynes, such as landscaping, allowing you to include as many services as you require!