As an owner of a commercial property, it is imperative that all areas of the building meet the highest standard of cleanliness. One of the most significant culprits for the accumulation of germs is, of course, the bathroom. With this in mind, we have put together a comprehensive guide on how you can ensure that commercial bathrooms comply with strict health and safety regulations.
A Comprehensive Guide To Cleaning Commercial Bathrooms
From enlisting professional cleaning specialists to regularly replenishing necessities, there is an abundance of ways that you can maintain an immaculate bathroom facility. Our guide below will run through not only expert tips but also the importance of a strict cleaning schedule.
Why Is It Important To Keep Commercial Bathrooms Clean?
The number of bathrooms in your commercial property will be based on how many people use the facility; this differs based on the industry in question. For instance, as recommended by Cubicle Centre, an office with up to 100 people working inside needs 8 female and 4 male bathrooms. Whereas, a shopping centre will only require one bathroom for every 500 visitors. However, one point always remains the same – the regularity of cleaning. A commercial bathroom, regardless of scale and industry, must be cleaned at least twice a day for many different reasons, including the following:
Protect Against Illnesses
Public bathrooms are some of the biggest culprits for spreading bacteria and harbouring germs. Based on a study into the Microbial Biogeography of Public Restroom Surfaces, more than 70,000 different types of viruses can be found in one bathroom alone on anything from toilets to floors. By ensuring that all surfaces are regularly disinfected and freed from germs, you can minimise a range of bacterial illnesses such as salmonella and E.coli.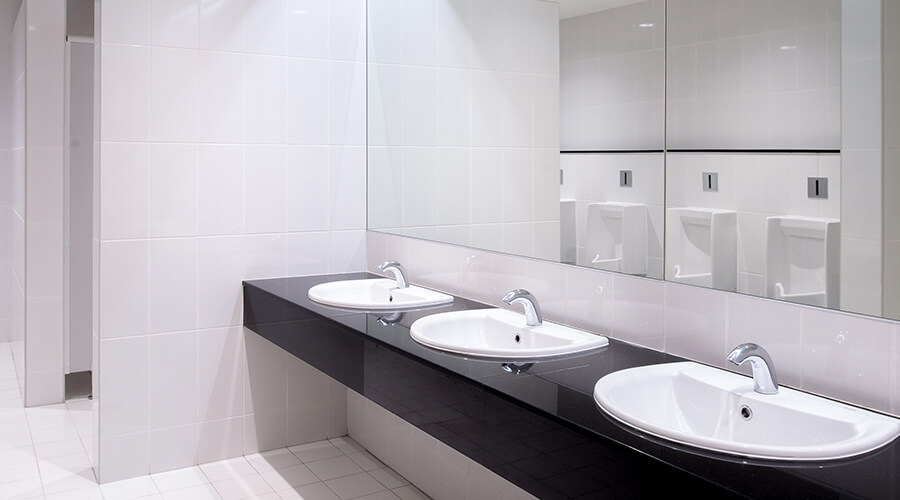 First Impressions Count
You wouldn't leave the reception area of your building looking unclean and unattractive, so why should it be any different for the bathroom? As featured in an insightful article by Clean Link, a vast 73% of visitors associate a dirty bathroom with poor management, which means that a negative impression of your business can quickly begin to form. Ensuring that every area of your premises, including the bathroom, guarantees a positive reflection of your business is imperative in attracting new business.
Saves Time & Money
Every commercial property is operated on a team of employees, who will be using public bathrooms more than anyone else. This means that they are more susceptible than any visitor to pick up illnesses down to an unkempt bathroom facility, leading to a number of sick days. While often sick days are inevitable, ensuring that you do everything in your power to keep the spread of bacteria at a minimum is vital to save both time and money.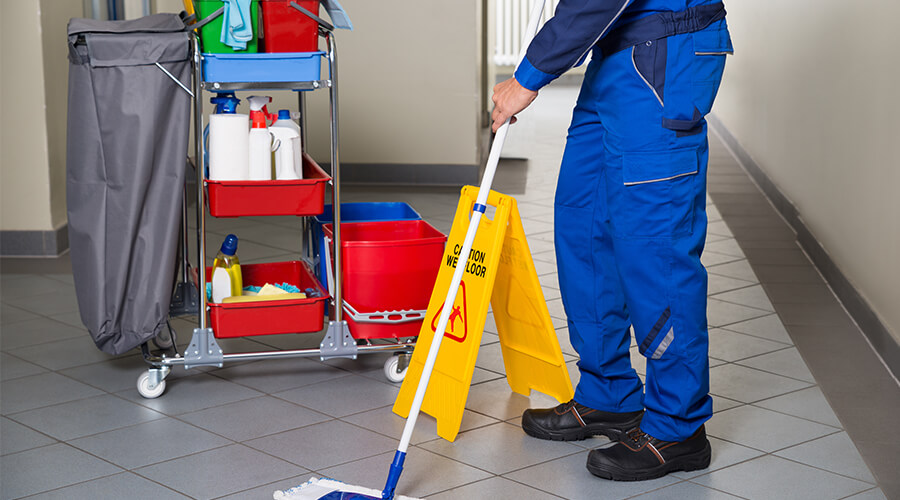 Comply With Regulations
The Health & Safety At Work Act 1974 states that "it shall be the duty of every employer to ensure, so far as is reasonably practicable, the health, safety and welfare at work of all their employees." This means that to ensure that your facility complies to regulations and passes audits, you are legally obliged to maintain an adequate level of cleanliness throughout the building.
Keeping Your Commercial Bathroom Clean
Due to constant daily use, keeping a commercial bathroom clean can be somewhat tedious. It can often feel as if no longer you finish thoroughly disinfecting every surface; the space has started to accumulate dirt again. However, it does remain imperative that this is scheduled into the daily routine of your commercial premises. As mentioned in an article by EBP Supply Solutions, while bathrooms only amount to 5% of your building, they are the cause of almost 80% of building complaints by visitors. As specialists in commercial maintenance in Leighton Buzzard and the surrounding areas, we have put together some expert top tips on how to maintain the cleanliness of the facility.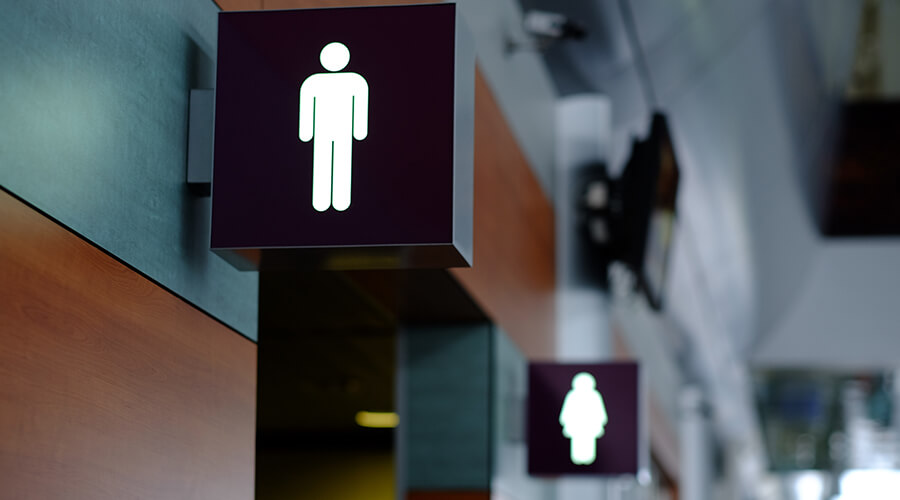 Regular Scheduled Cleaning
First and foremost, you must ensure that a strict cleaning schedule has been implemented. The easiest way to ensure that bathrooms remain in immaculate condition is to outsource cleaning to a professional company. Not only will this save time but also money as you will not have to worry about investing in industry-level equipment and products. Your chosen cleaning company will have the relevant knowledge and techniques to ensure that results can be maximised and bacteria is minimised. It also means that, once a contract has been agreed, you will no longer have to worry about ensuring that bathrooms are cleaned as they will visit on the scheduled time and date to carry out all tasks required. If you're unsure on how to find the best commercial cleaning company to fit with your businesses requirements, then take a look at our previous article.
Alternatively, if you are a local company hoping to invest in cleaning services in Milton Keynes, then do not hesitate to contact Facilities Company. With over 17 years of industry experience in commercial maintenance, our team are both experienced and fully accredited. They are dedicated to providing an exceptional level of customer service, ensuring that every service has been tailored to fit with the requirements of clients.
Air Care Products
It is increasingly common for commercial bathrooms to have little ventilation due to the lack of windows; therefore, lack of fresh air. With this in mind, we have all experienced a foul smell when entering a public bathroom, which is most definitely enough to make you turn away and go elsewhere. This alone is enough to create the assumption that you have not adequately cleaned the facility, meaning that it will instantly be considered dirty. Opting to invest in air care products will help towards preventing any unpleasant smells from accumulating.
HSD Online has a generous section of commercial air fresheners available, including both aerosol and non-aerosol options. There is also a vast range of different scents to choose from such as lemon, clementine and fresh linen. On the other hand, if you are a smaller facility with just one bathroom; therefore, do not need to bulk order air fresheners, you can pick up single auto spray kits from Air Wick!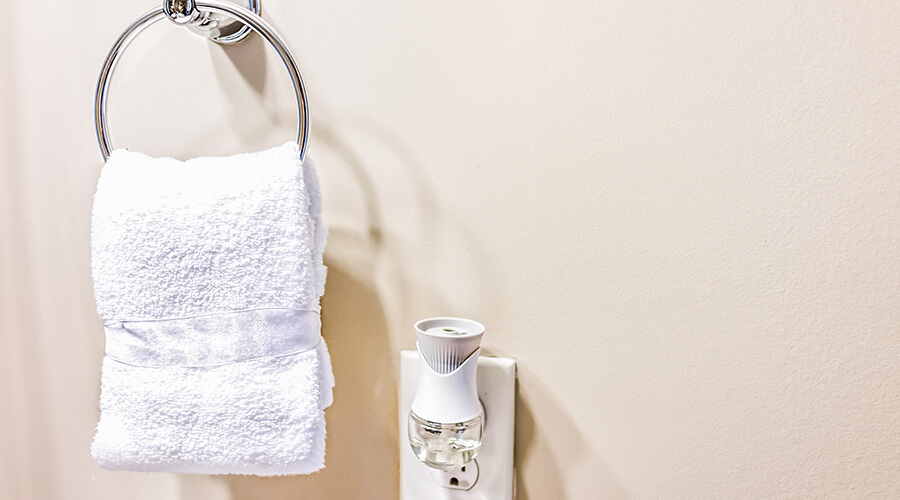 Replenish Stock
All commercial bathrooms feature necessities such as soap, paper towels and toilet paper, which need to be regularly replenished. Failing to top up any essentials when they begin to run low means that visitors will no longer have access to sanitation products, so are likely to make a complaint. Facilities Company provide clients with the regular replenishment of washroom supplies in Milton Keynes, Buckingham and the surrounding areas. This means that, while cleaning bathrooms, teams can also ensure that any empty soap, hygiene products and paper towel dispensers are fully stocked.
Dust And Clean Vents
Commercial buildings are designed with a maze of ventilation systems to ensure that there is an adequate flow of air. However, over time, these systems can quickly begin to accumulate dust and dirt, which means that they need to be cleaned. Failing to clean vents can come alongside a number of problems. Not only will the air quality deteriorate, but due to the humidity of vents, mould can quickly start to develop. Together, these can begin to aggravate any allergies that employees or visitors may have, especially those who have asthma.
For those who opt for enlisting professional commercial maintenance, full cleaning of the ventilation system is likely to be included in contracts. It is always recommended to leave these type of tasks to experts as they will have the correct equipment and techniques to ensure that it is carried out safely and successfully. However, if you have a small-scale premises and want to carry out DIY methods, then you can find a guide on how to clean air ventilation ducts on Den Garden.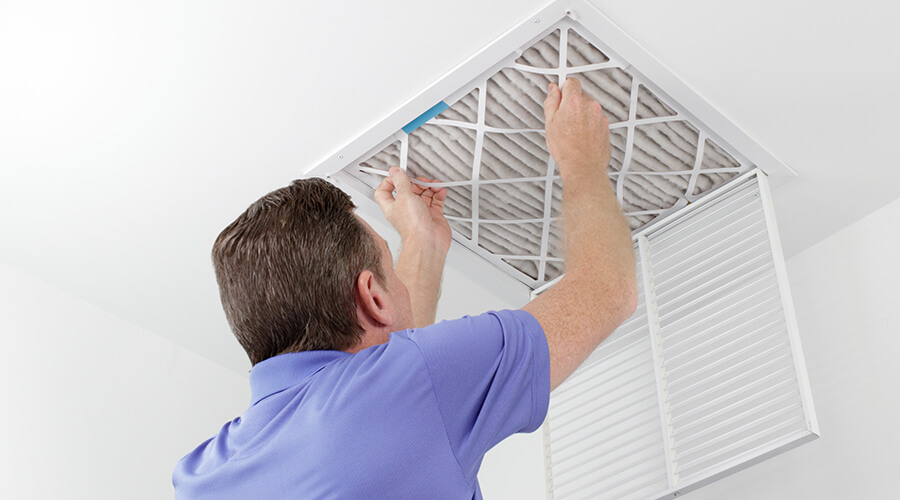 Unclog Drains
When it comes to commercial bathrooms, clogged drains often become inevitable. Unfortunately, those who use public facilities will not care for your premises as much as they would do so the bathroom in their own home. This means that it is likely that they will flush all manner of items, which are known for clogging drains and cause expensive problems.
There are many different signs of a blocked drain, which luckily, means that you can spot a rising issue before it has a chance to cause a problem. Always ensure that you ask your commercial cleaners to keep an eye out for blocked drains so that you can solve the problem quickly. Some of the most common signs include slow draining water, a foul smell and gurgling noises from pipes. Take a look at Drain247 for a detailed explanation of the six most common signs of a blocked drain.
Polish Glass Surfaces
All commercial bathrooms are equipped with large-scale mirrors, which means that it doesn't take long before they're covered in fingerprints, water stains and soap smudges. Thankfully, it couldn't be easier to restore mirrors and keep them in immaculate condition.
Using a microfibre cloth to polish mirrors is the most effective way to achieve a gleaming shine. However, it is important to ensure that all cloths are regularly washed to ensure that they do not begin to build-up germs. Place them in a hot wash, more than 60°C once a week to kill any bacteria before it has a chance to fester. Dettol has put together a great guide on the main hotspots for germs in a bathroom, which is most definitely worth taking a read if you are hoping to improve the cleanliness of your commercial premises.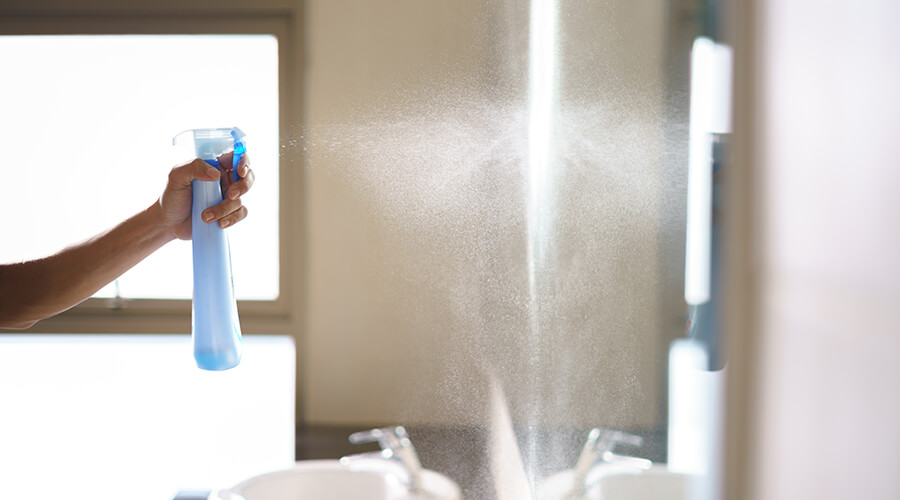 Thorough Inspection
It is highly recommended to carry out regular, thorough inspections of your commercial bathrooms to keep an eye out for any damage. This way, you can ensure that repairs have been scheduled before they have a chance to worsen, resulting in costly replacement fees. Some of the most common problems that commercial bathrooms experience include silent leaks, water temperature problems and broken toilet handles. You can find more information on ten potential issues to look out for, along with their signs, on the Emergency Plumber London website.
Maintaining An Immaculate Commercial Bathroom
In following our tips mentioned above, you can ensure that your commercial bathroom meets the highest standard of cleanliness. This will help towards not only maintaining a positive first impression but also prevent the spreading of bacteria to employees and visitors. To ensure that all health and safety regulations are met, we would always recommend hiring a commercial cleaning company to visit your premises regularly to disinfect all areas thoroughly.
Regularly cleaning commercial bathrooms is of paramount importance to prevent the spreading of germs. Take a look at our article for expert cleaning tips!