As a business, first impressions always count. Whether it may be the appearance of your commercial property or your online presence, there are a plethora of ways in which potential customers and clients can begin to form an idea on the nature of your company. This means that it is imperative to ensure that you implement processes which will guarantee a positive first impression, particularly when it comes to the appearance of your property and the experience it offers.
6 Tips For Making A Positive First Impression
Having spent many years working alongside clients in a wealth of industries providingcleaning services in Milton Keynes, our team have helped a number of clients to transform their property from dull and unwelcoming to vibrant and enticing. In order to do this, you will first have to consider the personality of your brand, as well as your target audience. For instance, if you work in a creative industry, then ensuring that this is portrayed throughout your site is essential, whether it may be through colourful landscaping or unique wall art. Those in a field such as law or finance, on the other hand, may stick to a more modern, clean and simplistic aesthetic to convey their professionalism.
Regardless of the theme that you choose, there are several steps towards ensuring that your building always maintains a positive first impression. These include the following: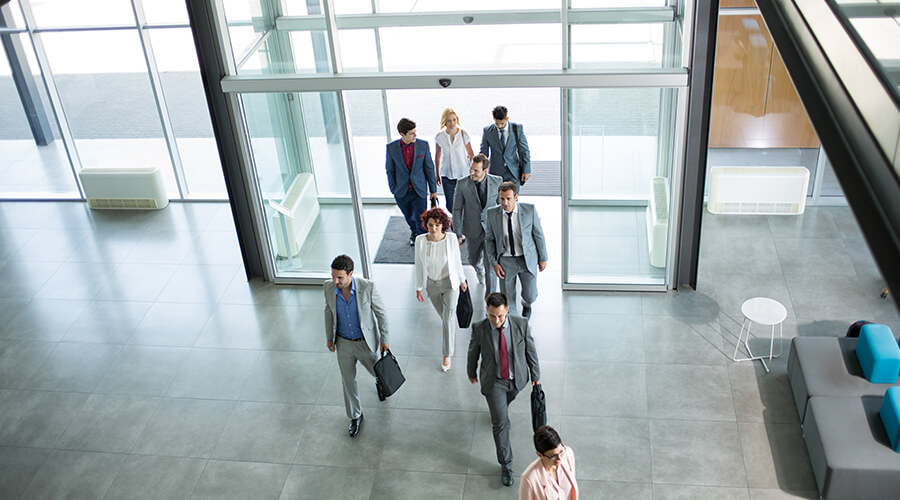 While a clean and tidy commercial property is always imperative, hygiene has become even more crucial in the current climate. If you have recently returned to work or have continued to operate on site throughout the pandemic, you would have noticed that cleanliness has become of utmost importance in controlling the virus. This means that it will also be a key factor that visitors will look out for when forming an impression on your business, both now and in the future. No one wants to walk into a building that is filled with clutter with dust on surfaces and dirt stains on the carpet; it will instantly create the impression that your business is careless, dampening your reputation.
To maintain optimum cleanliness, we recommend opting for a combination of staff cleaning, along with enlisting the help of a commercial cleaning company. All team members should be encouraged to take responsibility for their work station, ensuring that they clear away any clutter at the end of each day before wiping down the area with disinfectant wipes. To aid this, we suggest not only stocking up on plenty of cleaning products but also providing each station with their own bin. In doing this, you can prevent cross-contamination and in return, lower the risk of COVID-19 spreading in the workplace.
Although working as a team to keep your premises clean will always be hugely beneficial, there will be some aspects that will prove trickier to maintain without the help of commercial cleaners. Public bathrooms, for example, require meticulous cleaning, which we can almost guarantee that no employee will volunteer to do. Dust, dirt and allergens will all also imbed themselves deep into carpets or any crevices between furniture, which requires expert cleaning products and equipment to remove. Other benefits of scheduling regular professional cleaning include:
Reduced Sick Days – A clean workplace is a healthy workplace which means that if you can prevent germs from spreading, you will significantly reduce the number of employee sick days, helping you to stay as productive as possible.
Cost Savings – High-quality commercial cleaners will ensure that all surfaces remain free from contaminants, which means that they are far more likely to last longer, limiting the need to pay out huge expenses for replacement.
Boosted Morale – Being surrounded by a clean, organised environment means that staff can maintain a clear mind, helping them to stay on top of their tasks. The reduction in stress will then result in an increase in morale.
Range Of Services – Along with your regular cleaning, professional companies can also provide you with a range of additional services such as carpet cleaning and window cleaning, keeping your property in immaculate condition.
If you are interested in booking commercial cleaning in Milton Keynes and the surrounding areas, then please do not hesitate to get in touch with Facilities Company. Our team have many years of experience and have continued to support clients over the pandemic, so would be more than happy to put together a contract with you.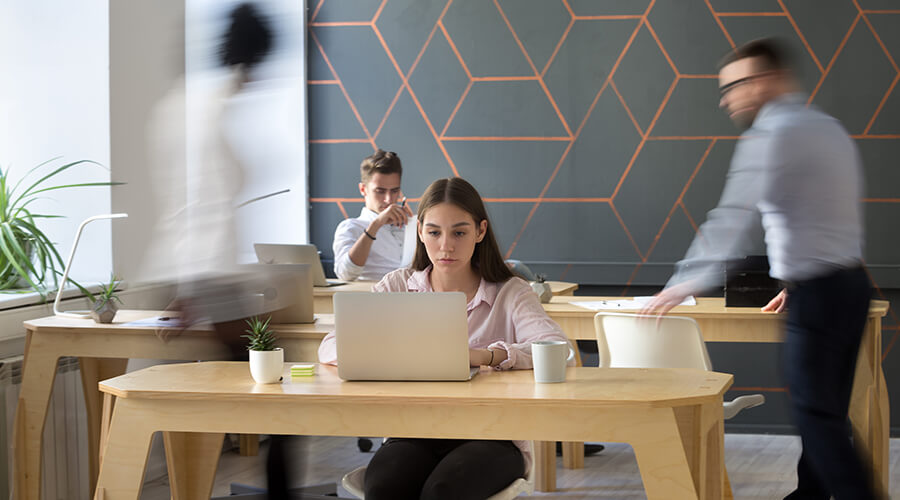 There is nothing worse than visiting a bathroom in a commercial property to notice that they have run out of soap or hand towels. In fact, according to a survey carried out in America, an unpleasant experience has been proven to leave a lasting negative impression on visitors, which can be tricky to rectify.
With this in mind, a super easy way to preserve your reputation and maintain a positive impression is to ensure that your washroom supplies are always topped up. You could also consider adding finishing touches such as air fresheners and hand moisturisers so that your bathroom can remain not only sanitary but also pleasant. Providing washroom supplies is another service which can be incorporated into your cleaning contract with the Facilities Company, whether this may be on a daily, weekly or fortnightly basis based on the scale of your property.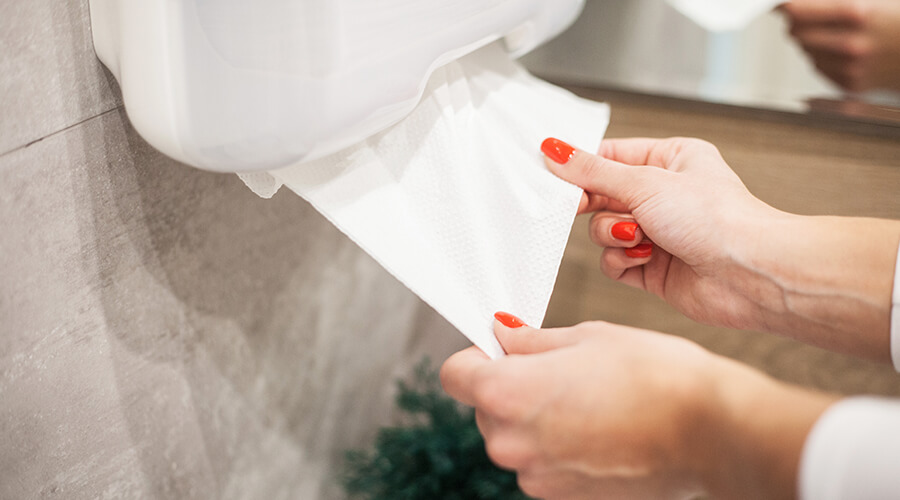 To reassure a positive first impression, you must take care of your property not only on the interior but also the exterior as ultimately, this will be the first insight that visitors will have into your business. The moment that they arrive on your site, they must be able to form the idea that they can trust your brand, which can easily be achieved by regular commercial maintenance. A poorly maintained site with overgrown greenery and piles of rubbish in every corner will not only dampen aesthetics but also causes significant safety risks. This leads to several problems such as tripping hazards, pest infestations and damage to vehicles from falling objects.
In scheduling regular commercial maintenance, you will be able to mitigate all of the above issues before they cause a problem, keeping your site in pristine condition. Much like a cleaning contract, your maintenance visits will be tailored to fit with the requirements of your business, including the size of your property, budget and working hours. They will cover several aspects of your premises, depending on the time of year. For instance, during the summer, trees, hedges, bushes and grass are more likely to grow quicker, which means that these will be pruned regularly to prevent overgrowth. In the colder months, on the other hand, drainage systems can be cleared from fallen leaves and debris to prevent leaks, while any snow and ice can be removed from pathways. This is an easy and affordable way to maintain the aesthetics of the exterior of your property, ensuring that the initial impression of your business is always positive.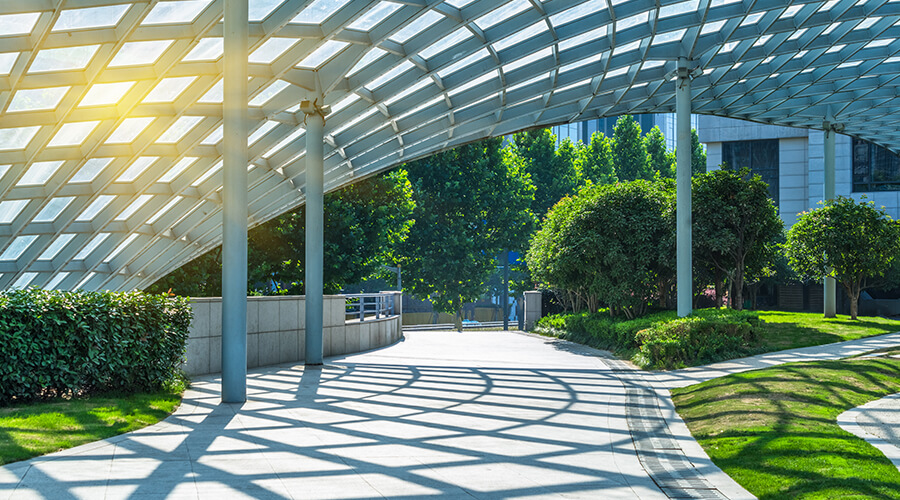 Whether it may be potential clients, customers or even employees, a welcoming, tidy entrance is always guaranteed to impress visitors. This means that particularly if you invite outsiders into your building on a regular basis, ensuring that the reception area looks the part will always contribute towards a positive first impression.
There are many different ways that you can create a welcoming entrance, and it is important to keep in mind that the personality of your brand starts at the reception area. You should use this space to begin conveying your message and values, opting for a colour scheme and interior design that accurately reflects your company. As mentioned previously, this will differ based on your industry and whether you choose a simplistic or vibrant aesthetics will now come into play. To do this, begin by considering the following:
Available Space – If you have a smaller reception area, then the focus will be on making the most of the space, using smart solutions to prevent the room from looking cluttered. This may mean downsizing your furniture, opting for compact seating arrangements as opposed to statement armchairs, for example. Those with a larger space to fill, in contrast, have endless opportunities and can incorporate a reception desk, sofas and coffee tables.
Lighting – Office buildings and retail units, especially, are known for being fitted with harsh artificial lighting, which is not always easy on the eyes. If possible, we would always recommend maximising your natural lighting instead of relying on fluorescent alternatives as not only does it come alongside a wealth of health benefits, but will also help to reduce energy bills. For those who do install additional windows to enhance sunlight, regular window cleaning will be essential. Feel free to contact our commercial window cleaning in Milton Keynes to get booked in.
Colour Scheme – Most companies choose a neutral colour scheme for their reception area as it creates a clean, organised appearance, then incorporates personality through accessories. A simple colour palette is also a great way to future-proof your property, meaning that if you change your brand colour or want to freshen up your space, you do not have to redecorate completely.
Flooring Choice – An easy to clean flooring such as vinyl, tile or wood is always a sought-after option for reception areas as they are likely to get grubby the quickest. Particularly during the winter months, visitors will bring anything like a tonne of muck into your building, so by choosing an entrance flooring that can be wiped clean quickly, you can maintain your appearance. If you do have a carpeted reception, on the other hand, we would recommend scheduling regular cleaning with a professional.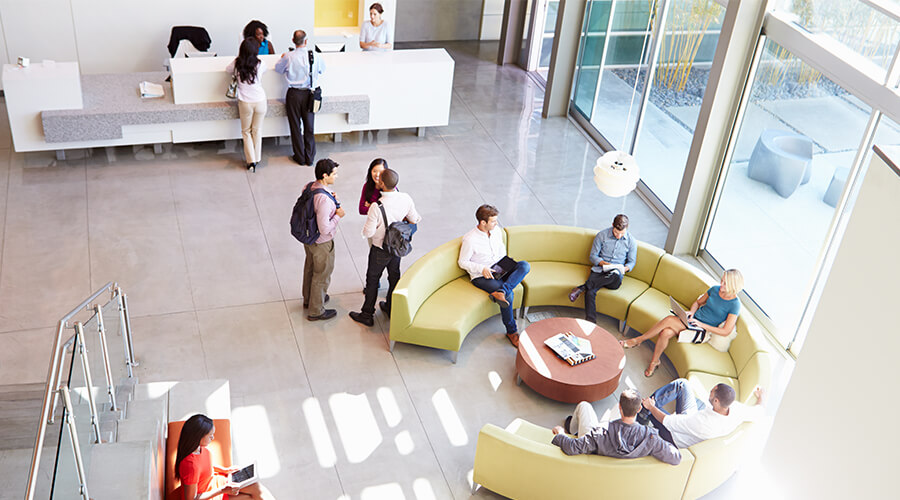 For many drivers, lack of parking can instantly turn them away from a company. No one wants to be driving around trying to track down a parking space, particularly in an unfamiliar area, which means that providing plenty of parking will always help to create a positive impression.
If you are based in a shared premise, then it is recommended to dedicate a few parking spaces to your visitors, whether this may be clients or potential employees arriving for an interview. Even if this means members of the team sacrificing their allocated space to others, keeping visitors as your priority will help to promote a positive brand message. For others who own their own commercial property, there will be much more opportunities to maximise parking. Consider taking a look around your site and determining whether there are any unused areas such as patches of grass.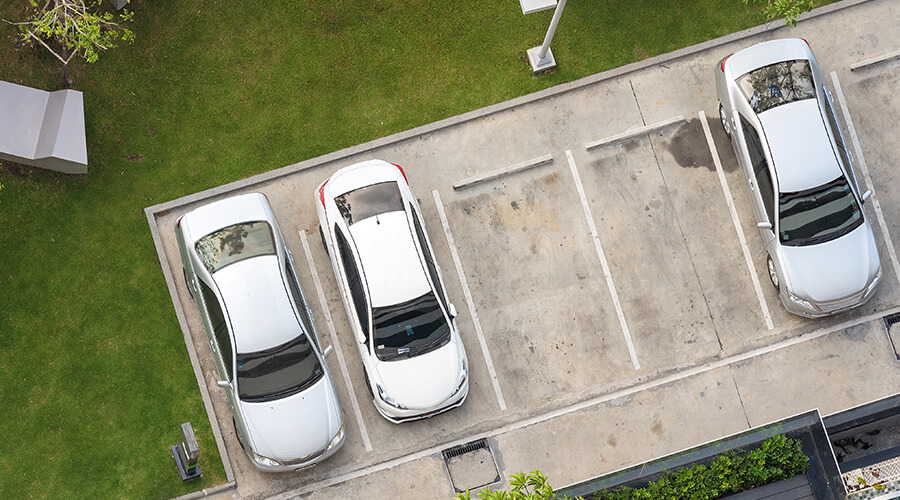 Although the appearance of your commercial property may be aesthetically pleasing, if your staff are unpleasant and unwelcoming, your hard work will become relatively futile. It is for this reason that you should also work towards implementing policies within your business that will ensure that your staff also help to maintain a positive first impression.
To achieve this, begin by ensuring that there is always someone on hand at your reception area to greet visitors and answer any questions. There is nothing more frustrating than arriving at a building you have never been to before, and having no one to point you in the right direction. These staff members should look presentable and greet visitors with a smile, helping them to feel comfortable and enjoy their experience. If you work on the basis that a team member will meet with the visitors and bring them to the office, also ensure that they are on time and do not keep them waiting. For more tips on how to make a great first impression personally, take a look at Mind Tools.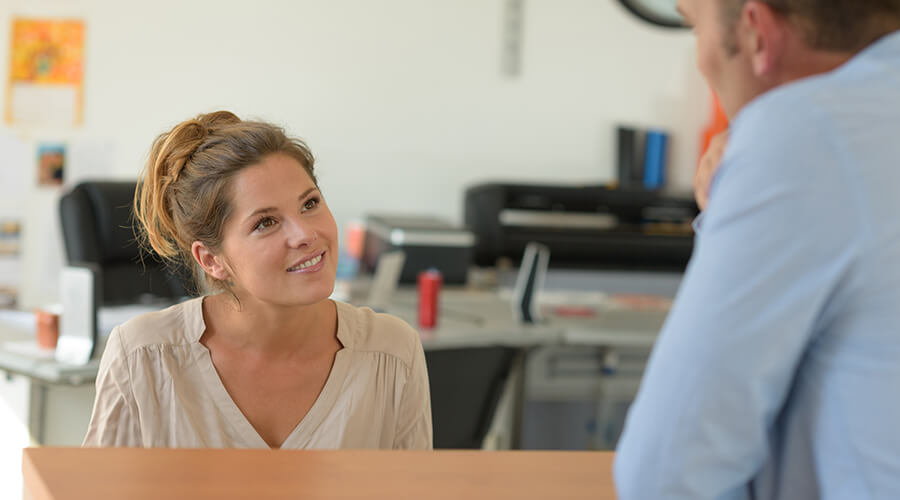 Positive First Impression = Business Success
Through putting in place several processes that will guarantee a positive first impression, you will instantly be one step ahead of your competitors. You would have already started to win over potential customer or clients, as well as those who can join your team, from the moment that they step onto your site. This will improve your brand image and reputation, which, in return, will allow your business to strive for many years to come.