A clean and tidy workplace is proven to boost productivity and morale, so you should always ensure you are keeping on top of the mess in your office. When it comes to your desk, you will want it to be the perfect combination of personal and professional while always being free from clutter. Thankfully, our useful tips on how to keep your desk tidy will help you do just this, while simultaneously creating a more hygienic and streamlined working environment.
Reasons Why You Should Keep Your Desk Tidy
A survey claims that the average Brit will spend 3,507 days at work during their lifetime – practically turning your office desk into a second home. Spending so much time in the workplace is made all the more tedious and unenjoyable when you have to work in messy conditions that make your job difficult. It is important to take pride in your desk and keep it tidy as it will communicate professionalism, facilitate creativity and increase productivity. There are a whole host of other benefits that come with a tidy desk, such as:
Improves Health
Office hygiene is an extremely important factor in professional life as it impacts your personal health and wellbeing. You may be surprised to know that the average office desk contains 400 times more germs than a toilet set! This means, if not cleaned regularly, your desk is a serious risk to your health and increases the chances of sickness. Other frequently used items such as your keyboard and mouse are also constantly swarming with bacteria, and this is worsened if your office implements a hot-desking system. To put the importance of office hygiene into perspective, here are some shocking statistics which highlight how detrimental an untidy desk and working station can be to your overall health:
Dirty desks put two thrids of office workers at risk of sickness
A messy desk encourages harmful bacteria such as E. coli, Helicobacter pylori and Staphylococcus aureus to breed
On average, there are over 20,961 germs at each desk per square inch
Each keyboard houses over 3,295 germs
The average desk-top mouse contains 1,676 germs
Over 25,127 germs are found on a standard office phone
One of the best ways to minimise the bacteria you come into contact with at your desk is always to have hand sanitizer or antiseptic wipes to hand.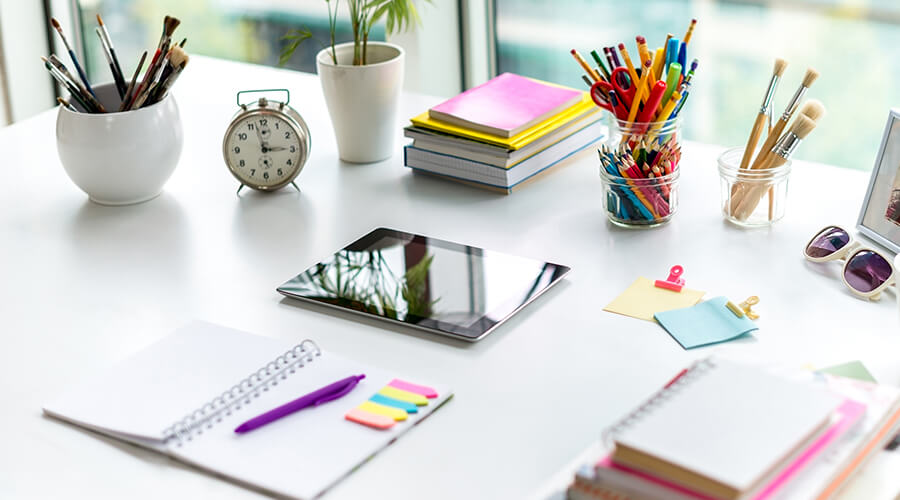 Reduces Stress
Ever heard of the saying 'Tidy Desk, Tidy Mind'? Well, it couldn't be truer! As well as being good for our physical health, a tidy desk is proven to help our mental wellbeing in many ways. Every workplace environment is guilty of becoming a little stressful and overwhelming at times, but a tidy desk is capable of significantly reducing these stress levels. When your desk is cluttered, it is easy to lose track of paperwork and get distracted as you are bombarding your mind with excessive stimuli. Constantly rummaging under rogue piles of paper, sifting through unorganised filing systems and trying to revive a wilting desk plant forces you to spend less time doing your assigned tasks for the day – increasing both your workload and stress levels too. If you are guilty of having a messy desk (don't worry, we all are every now and then!), then use our simple ideas below and give your workspace a new and improved look.
Organise Your Paperwork
Our experience of office cleaning in Milton Keynes has highlighted that one of the main culprits of desk clutter is paperwork. Throughout the day, it is very easy to become inundated with various documents that end up being put to the side to deal with when you have time. However, this is detrimental to your productivity as sorting through all the papers to find the one you need can be quite time-consuming. If you are guilty of finishing your working day with a desk that looks like it has been at the frontline of a paper factory explosion, you'll be happy to hear there is a simple solution. By using a desktop sorter, you can remove any rouge paperwork that is lying about on your desk and store it away neatly. You could even label your storage unit in terms of priority if you want to be super organised.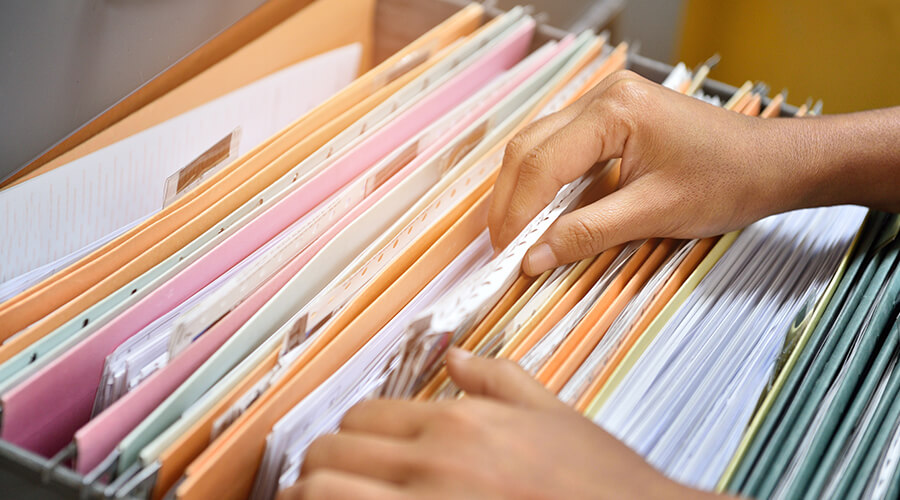 Perfect The Layout
Organising your desk in a way that suits you will maximise efficiency and productivity and make you feel more comfortable. It is important to avoid bad ergonomics when designing your desk layout as it could make simple tasks, such as answering the phone, extremely tedious. To help you create the ultimate desk layout, follow these tips.
Many office workers will spend the majority of their day staring at a computer screen, which can cause back, neck and shoulder pains, as well as placing a significant amount of strain on your eyes. Using anthropometric data, a guideline has been put in place for all those who work on computers, detailing the ideal distance between you and your screen. There are also recommendations for desk and seat height for added comfort. As standard, your computer screen should be at eye level and at least 50cm away from your face – which is about arm's length. In terms of chair and desk height, this varies from person to person depending on how tall you are. However, with this online ergonomic desk calculator, all you need to do it enter your height and the values of your workstation components will be displayed.
Although monitor placement and desk height are very important, perfecting your layout isn't complete without considering what supplies you need on your desk, and where you will put them. If your job requires you to answer the phone, you should make a conscious effort to place the phone on your dominant side – avoiding uncomfortably reaching across your body every time it rings. You should also maintain a clear paper-sized space on your dominant side to make organising papers easier. If you want more inspiration for a practical desk layout, take a look here.
Consider Commercial Cleaning Services
If messy desks in your workplace are getting out of hand, you may need the help of professionals to restore order in your office. A reputable commercial cleaning company will know exactly how to tackle the problem and ensure all desks look immaculate. With over ten years of experience and utilising the latest products and equipment, you can rely on us to provide a satisfactory service that will leave your desk sparkling clean. We endeavour to go above and beyond for all of our clients, which is why we do not limit our services to just office cleaning. We also provide commerical maintenance in Milton Keynes, window cleaning and cladding cleaning. You can see our full range of services here.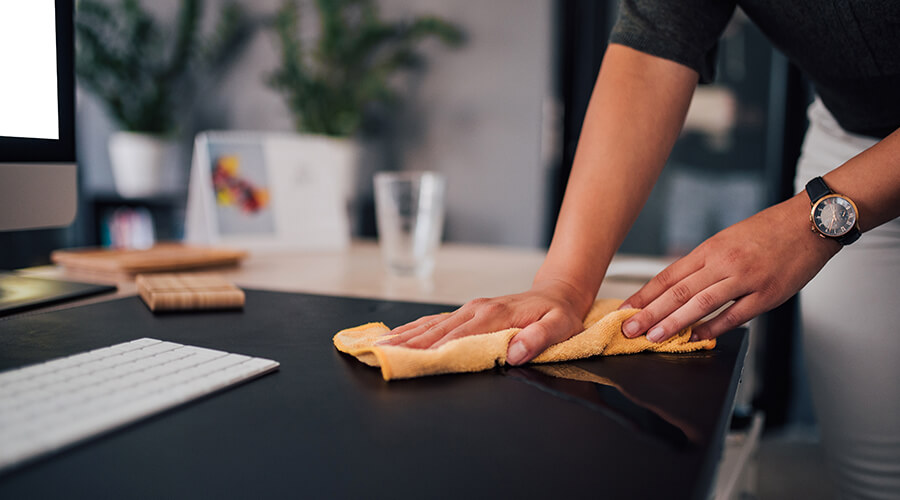 Devise A Personal Desk Cleaning Routine
If your workplace does not use hot-desking, it is worth creating your own cleaning routine. While you work, your desk becomes your responsibility, so you want it to be a reflection of your work ethic. Depending on how neat you usually are, your cleaning routine will most likely differ from your colleagues. If you are typically quite messy when you work, your cleaning routine will have to be quite thorough. On the other hand, if you thrive off organisation and cleanliness, your routine will require minimal effort. No matter how clean or messy you are, you should always give your desk a tidy before leaving at the end of the day. By doing this, you can quickly review any pending work which needs to be prioritised for the next day. Moreover, you will appreciate the satisfactory feeling of coming into work the following day to a clean desk. You can even make the whole process fun by investing in quirky products such as a small hoover, mini dustpan and brush or small microfiber duster.
Finishing Touches
Although professionalism in the workplace is of utmost importance, there is nothing wrong with adding a few personal touches to your desk to make it feel more homely – after all, you do spend the majority of your time there! Many office workers opt to display a family photo on their desk, which acts as excellent motivation throughout the day. You could pair your family photo with a stunning small desk plant, which will make your entire workstation look fresh and inviting. Alternatively, you could have a framed motivational quote on your desk instead of a family photo and surround it some attractive crystals. Many celebrities swear by the healing properties of crystals which is why they have grown in popularity in recent years. Every crystal is unique and can help balance your mind, body and spirit – making them ideal for a stressful work environment. Some of our favourites which are perfect for the workplace are:
Iron Pyrite

Sometimes referred to as fools gold, Iron Pyrite would be a great addition to your desk as it symbolises the continuous flow of ideas and promotes working with determination and confidence.

Hematite

If you have a habit of getting stressed at work and need a solution that will help you remain calm, hematite is the answer. Acting like a sponge for negative thoughts and energy, this crystal will ease your workplace anxieties and allow you to connect to your root chakra.

Citrine

Citrine is essentially vitamin C for the soul as it emanates positivity and joy. Working with a citrine stone is said to infuse your soul with happiness and light, making you feel optimistic and centred.
While we highly recommend adding personal touches to your desk to make your working day a little more comforting, don't overdo it. Filling the surface of your desk with cute photos and plants will make it look unattractive and heavily cluttered. Instead, we suggest limiting yourself to no more than three personal items on your desk at a time. This way, you will minimise distractions and have plenty of space to complete your work.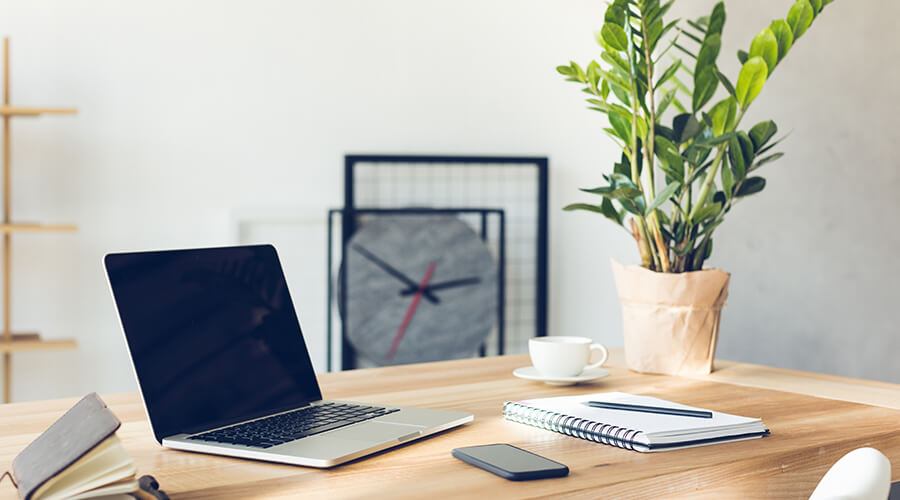 Tidy Desk, Tidy Mind
We pride ourselves on delivering commercial cleaning services to the highest standard as we know how important a tidy office is to a business' success. Having delivered high standard commercial maintenance in Luton and the surrounding areas for many years, we can help keep your building interior and exterior looking pristine. If you want to know more about any of our services or want us to give your commercial property the TLC it deserves, please do not hesitate to contact us.