Get Your FREE Quotation Today.
We are rated 5 stars by our clients.
Reputable Office Cleaning Services
Offering a one-stop solution for businesses of all scales, our office cleaning services can be tailored to fit with your requirements. Whether it may be a daily, weekly or monthly package, our accredited team will be on hand to offer a high-quality service, saving you time and money.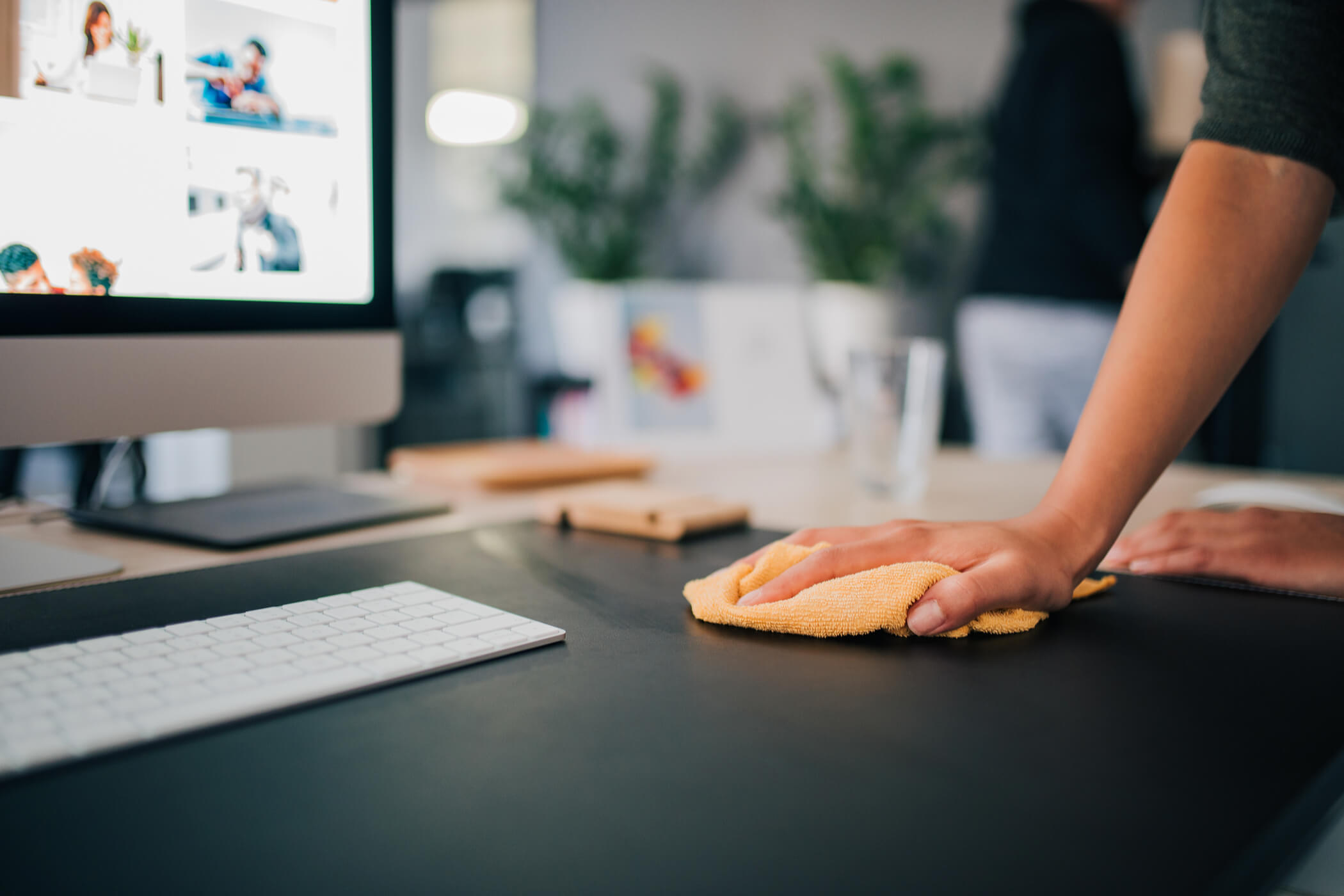 Protect Your Business Through Deep Cleaning
As specialists in deep cleaning, Facilities Company have devised solutions which allow you to minimise the risk of COVID-19 in the workplace. This includes a full sanitisation, disinfection and decontamination of your site, allowing all surfaces, equipment, furniture and touch points to remain free from germs.
Based on the nature of your premises and number of occupants, whether this may be an office, school, retail space or any other commercial property, teams will develop a package tailored to your requirements. During visits, they will ensure that the area is secured and PPE will be worn throughout, giving you the peace of mind that the highest level of cleanliness can be deployed.
Create Your Tailored Office Cleaning Contract
With many years of experience, Facilities Company is well-versed in creating tailored contracts to meet the demands of businesses of all scales. Through our professional office cleaning, not only can you minimise sick days and prevent the spread of germs, but also improve productivity and overall employee wellbeing. As well as benefitting your company internally, cleanliness is of utmost importance in creating a positive first impression, maintaining your brand reputation.
When enlisting Facilities Company for your office cleaning, you will be free to alter your contract to meet your requirements, additional extra areas of your premises, such as reception areas, meeting rooms and kitchens. Just a few examples of the tasks completed during cleaning visits include:
Vacuuming carpets and mopping flooring
Dusting, wiping down and disinfecting all surfaces
Emptying, cleaning and replacing bins
Spot cleaning (removing stains and spillages)
Vacuuming blinds and around window sills
Find Out More
Your No.1 Facilities Management Company
Are you paying too much for your current commercial cleaning or not seeing quality results? If so, then we can help! From window cleaning to office maintenance, Facilities Company can provide your business with a comprehensive range of commercial services. Whatever the nature of your company and size of your premises, we will listen to your needs and provide a package that is completely tailored to you and your business.
Fast Service
We'll work efficiently and never disrupt your business.
Fully Accredited
Our accreditors recognise that we work to the highest industry standards.
Friendly Team
You can rely on us to deliver an outstanding service.
Experienced Staff
We have a multi-Skilled team to assist with all of your requirements.
"

Facilities Company have been maintaining our office for years now. They created an affordable package for us based on what we wanted which was great. They clean our windows, carpets and general office areas; the difference they make is amazing, wouldn't use anyone else!

"
"

Honestly can't explain how great Facilities company are when it comes to office maintenance. Whatever the problem, they have someone who can come out and repair it! We've had plumbing complications through to electrical problems and they are always able to safely fix the issue.

"
"

I own a shop with very large storefront windows which Facilities Company clean for me. They always do an amazing job! I've started using their maintenance service for any problems I have in the shop too – it's been great using one company to do the lot! Would really recommend.

"
Facilities Company are rated 5/5 based on 3 reviews
Free

Site Survey For All New & Existing Customers

We'll carry out a site survey and listen to your needs, in order to provide a completely bespoke service.