As the lockdown begins to ease, and businesses can eventually return to work, it is now more important than ever to implement a strict hygiene routine. Cleanliness in the workplace should always be a top priority but even more so when, although we are beginning to see some form of normality, we are still in a pandemic. The spread of COVID-19 is still impacting thousands of individuals across the nation, meaning we all must do everything in our power to keep our surroundings free from the virus.
With this in mind, having been experts in commercial cleaning in Milton Keynes and the local areas for many years, we have been some of the few who have continued to operate throughout the pandemic. Cleaning is our forte, so we have put together a guide on the importance of cleanliness in the workplace, along with how to implement a routine. Together, these tips will allow you to safely return to work and remain as hygienic as possible.
A Guide On The Importance Of Cleanliness In The Workplace
Living through the current climate has meant that maintaining a high level of cleanliness has become something that has been stressed to us almost every day. Disinfecting surfaces after coming into contact, as well as frequently sanitising our hands, has quickly become second nature. While this is easy when you are working from home and only popping out once a week for supplies, it can become harder to stick to a strict routine when back in the workplace. It will take the team effort of all staff members to ensure that every area remains safe. So, to ensure that every employee is aware of how an unclean workplace can impact them and you have an idea on how to put a routine in place, we're going to take a closer look at the following points: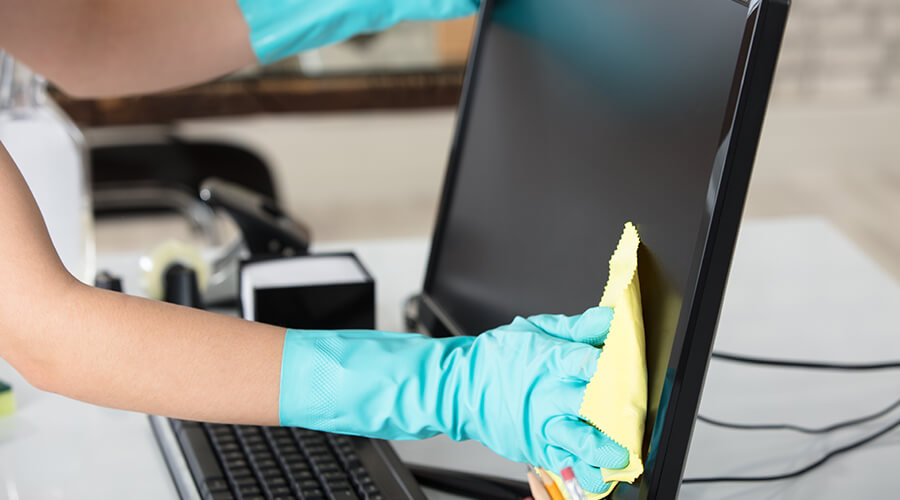 Although at the moment, cleanliness is key to preventing the spread of COVID-19, there are a number of other different ways that an unclean workplace can impact your business. Ensuring that your corporate premises remain clean, hygienic and tidy can mean the difference between a company that thrives and one that struggles to attract new business. Find out more about why cleanliness is vital in running a successful business below:
First Impressions Count
As a business owner, you must do everything in your power to ensure that the first impression of your business is always positive. Whether it may be the appearance of your website, the friendliness of your staff or the workplace itself, every aspect of your company must be presented to the highest level. The cleanliness of your premises is one of the key contributing factors towards guaranteeing a positive first impression as it allows you to showcase your professionalism and attention to detail. It creates immediate trust with visitors, from clients to potential team members, instilling the idea that you will take just as much care with how you present your services or products that you do with your premises. An unclean, messy workplace, on the other hand, will do nothing but dampen your reputation, creating the impression that your expertise will be of the same lousy quality.
Clear Surroundings, Clear Mind
A clean surrounding equals to a clear mind, which means that if you implement strict cleanliness, you will be rewarded with dedicated, hard-working individuals. Why? Because a dirty, messy atmosphere can have a significant impact on wellbeing, eventually having a negative effect on your overall company morale and productivity. According to Psychology Today, an unclean workplace can make it harder to think efficiently because the mess of your surroundings is replicated as "mental clutter." This "mental clutter" causes your neural networks to become clogged up with irrelevant information, meaning that it will become trickier to focus on a task without becoming distracted.
Along with impacting productivity, an unclean workplace can also alter how comfortable employees feel while working. The average working day is around eight hours, which means that most people spend more of their time awake at work rather than at home. If you work in an environment that is cluttered and messy, you are likely to begin feeling more stressed, leading you to start disliking your role. It is for this reason that it is essential to ensure that employees feel comfortable while in the workplace. Another way that you can work towards this is by allowing staff to personalise their desk with accessories that reflect their personality. Whether this may be stationery or plants, even the smallest of touches can make a huge impact!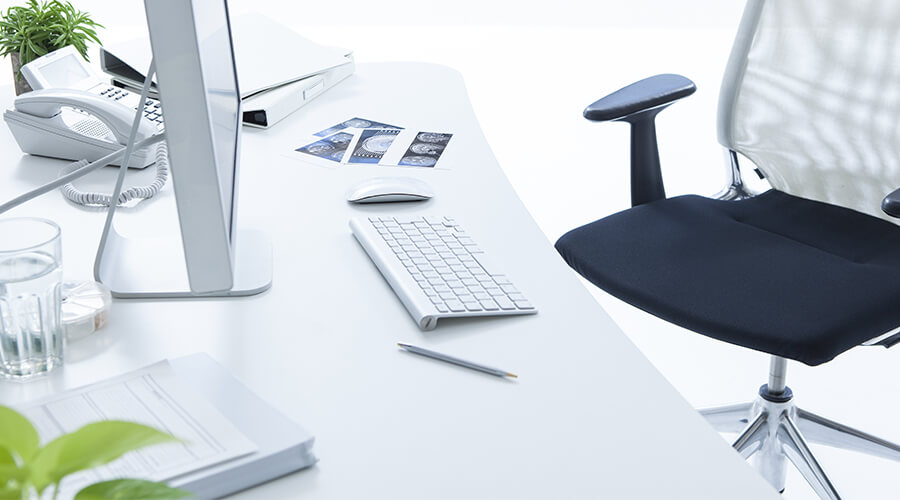 Health & Safety Compliance
A messy environment means that there are a whole host of hazards that staff and visitors must avoid to prevent injuries. Whether it may be the risk of tripping or slipping, a workplace filled with clutter or spillages will dramatically increase the likelihood of an accident. This alone can have a significant impact on the reputation of your business, especially if the individual was to claim against you, also leading to huge expenses.
However, if you were to implement a strict cleaning routine, it will be easier than ever to ensure that you continue to comply with the health and safety regulations for your industry. It will also mean that you will have full control over any potential risks in the workplace and have a set process on what to do should any arise. For more information on corporate health and safety policies, head over to the HSE website.
Healthy Employees = Happy Employees
It is true that healthy employees mean happy employees, but this is only possible if you limit the spread of germs. As we are all now more than aware, cleanliness and hygiene are pivotal in preventing catching COVID-19; however, the same concept goes for all other viruses. Even the common cold that we all seem to catch over the winter can be limited if the level of cleanliness is high. This is because the moment that someone infected with the cold either coughs or sneezes, all of the tiny particles of the virus are dispersed into the air. These droplets of germs then remain airborne until they fall into a surface or are inhaled by another individual. Health Engine has a great guide to cold and flu in the workplace which has more information on this topic.
Once you have put in place a system that prevents the spread of germs and bacteria, you will find that employees will fall ill far less often. This not only means that they feel well and are therefore more productive, but it can also keep sick days a minimum, saving your company time and money.
Dirt Impacts The Air Quality
Another factor that contributes towards the health of staff and is impacted by cleanliness is the quality of air in the workplace. As mentioned above, germs travel through the air and when in an indoor environment, can thrive far quicker compared to outdoors. This will make it considerably easier for viruses to be caught merely through breathing the same air as those infected. Not only this, but poor air quality can also negatively impact those that have respiratory issues such as asthma, along with allergies and skin conditions. Again, increasing the likelihood of sick days.
Longevity Of Premises
Much like anything, if you take care of your corporate premises and ensure that it is well-maintained, it will last you considerably longer. Company assets do often come alongside a high price tag which means that you must ensure that you can a return on investment. Whether it may be carpets, furniture or even electronic devices, regular cleaning will boost longevity and save you money on replacements. It will also mean that they stay in good condition, preventing your building being filled with old, worn items, creating a positive first impression.
Now that you are familiarised with why it is of utmost important to keep your workplace clean, it is now time to implement a schedule. For maximum results, this will require a combination of professional cleaning, along with effort from your staff. Below we have put together a checklist on the key cleaning tasks you must consider, each of which clicks through to a short explanation on what to remember:
Enlist Professional Cleaners
Stock Up On Cleaning Supplies
Set Up Sanitising Stations
Encourage A Tidy Desk Policy
Disinfect Bacteria Hotspots
Ensure Bins Are Emptied
Organise Cables & Electricals
Prevent Food Mess
Schedule Carpet Cleaning
Regularly Clean Air Vents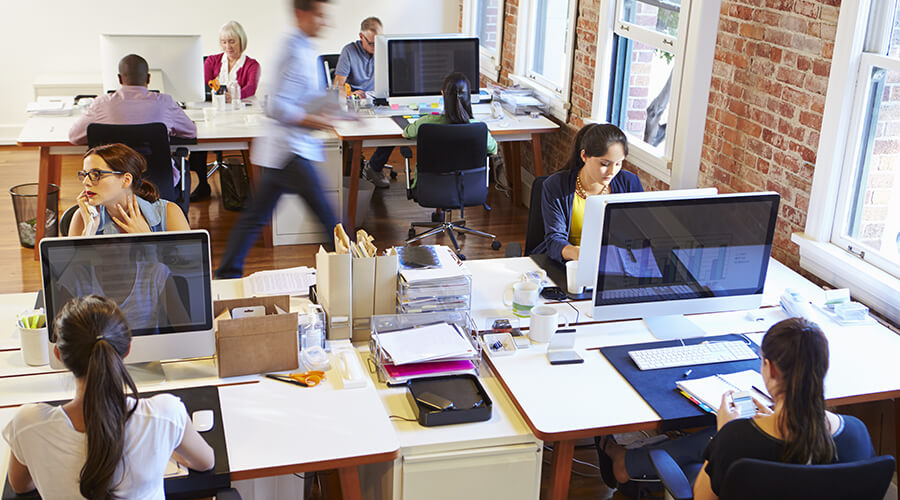 Even the smallest of commercial properties require professional cleaners to ensure that all health and safety standards are met. Companies that specialise in cleaning will have the highest grade of products, as well as equipment that guarantees immaculate results. They will be able to achieve a standard that simply is not attainable through only your staff cleaning.
Here at Facilities Company, we have been offering office cleaning in Milton Keynes and the surrounding areas for several years, so would be more than happy to put together a tailored cleaning schedule. This can include not only general commercial cleaning but also washroom supplies, window cleaning and much more. Feel free to contact our team for more information!
Even if you schedule for commercial cleaners to visit your workplace on a daily basis, ensuring that you have your own supply of cleaning products is still essential. These will be used so that staff can, for example, clear up any spillages or dust their desktops, allowing the environment to remain presentable at all times. Items that you should always have are:
A Vacuum Cleaner
Broom / Dustpan & Brush
Rubber Gloves
Mop & Bucket
Bin Bags
Disinfectant Spray
Multi-Purpose Cleaner
Sponges & Cleaning Cloths
Antibacterial Wipes
Washing-Up Liquid
Scourer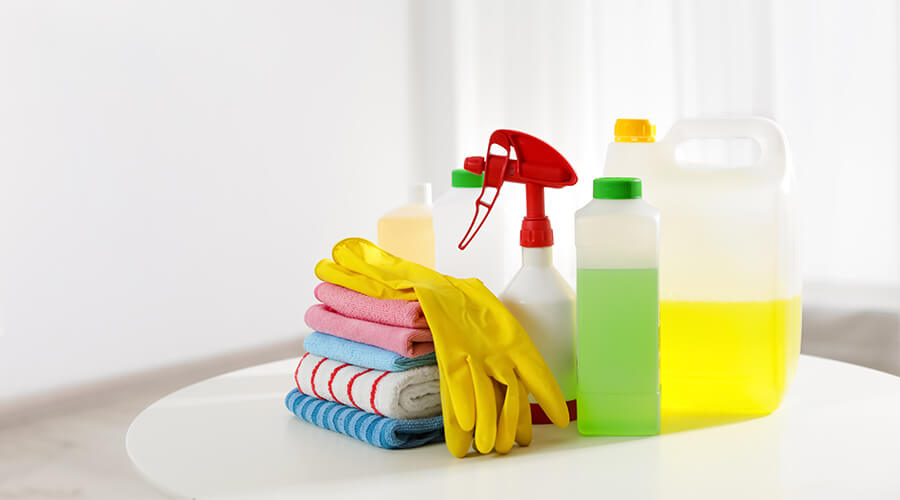 Hand sanitiser should always be dotted around the workplace, but even more so if you are returning to work during the pandemic. It is highly recommended to set up sanitising stations in the most commonly used areas such as at the doorway, in any communal areas and meeting rooms. Employees should all also ideally have their own hand sanitiser that they can use periodically throughout the day. For more information on how to create a safe workplace for employees to return to, take a look at our previous article.
If you work in an office environment, then it is more than likely that every employee has their own work station. In this instance, implemented a desk policy will most definitely work towards your advantage. This will involve encouraging every staff member to take responsibility for their own desk, ensuring that it is left clean at the end of each day. Not only will the tidy desk policy help the overall environment to remain free from clutter, but it'll also give employees a fresh start each morning. They will be able to get stuck into their work straight away without having to filter through paperwork or tidy away rubbish from the previous day.
There are several areas in the workplace, which are known for being hotspots for the growth of bacteria. They are also regularly touched by almost everyone, which means that they quickly cause germs to spread from one person to another. These hotspots should be disinfected at least once a day and include the following areas:
Door Handles
Phones
Mouse & Keyboard
Water Cooler
Printers & Photocopiers
Fridge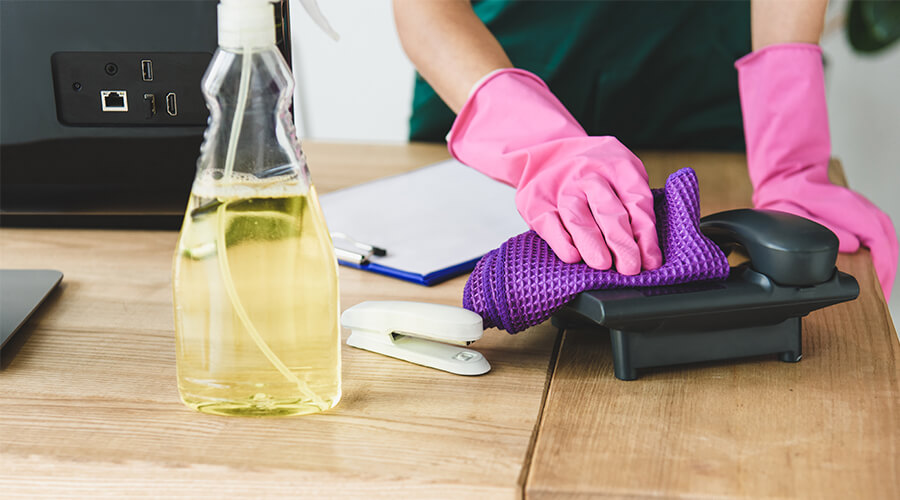 At the end of every day, all bins around the workplace must be emptied and replaced with a new bin bag. If employees have their own bin at their desk, then include this in the tidy desk policy. Alternatively, you could set up a schedule where staff members take it in turns to take out the rubbish.
One of the most common tripping hazards are cables trailing across the floor. Although this is not necessarily included in workplace cleanliness, it is essential in ensuring that surroundings remain safe and free from risks. So, with this in mind, we recommend tucking away any cables that could potentially obstruct walkways. Also, ensure that any electricals have been organised and are stored in a safe area. Encourage all staff to put away items as soon as they have finished using them to prevent clutter.
It isn't uncommon for a busy day to result in a quick lunch in front of the computer; however, you should always aim to keep this at a minimum. Not only does food often come alongside unwanted smells, but it also leaves crumbs and spillages on the desk, risking attracting unwanted pests. To resolve this, it is always advised to keep all lunch breaks in allocated areas, whether this may be staff rooms, kitchens or communal areas.
With constant footfall, it is inevitable that carpets will begin to experience wear and tear. While it is impossible to keep carpets in immaculate condition at all times, you can prevent stains and long-term damage through regular cleaning. The team at Facilities Company offer reputable carpet cleaning in Aylesbury and the local areas at an affordable price without compromising on quality. This allows you to continue to maintain a positive first impression and avoid replacement.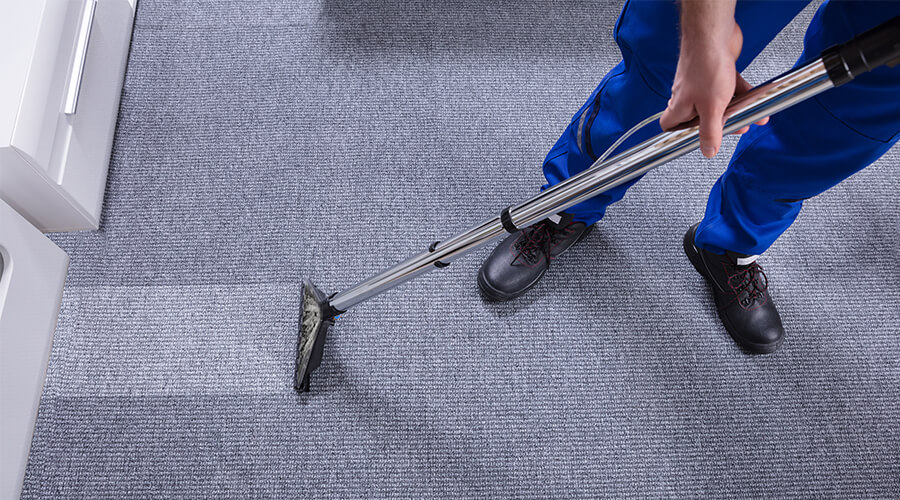 Regularly Clean Air Vents
As previously mentioned, the air quality of your workplace can have a significant impact on the health of employees. While opening the window and allowing fresh air to flow through is beneficial, this is not always possible in all offices. This is why regularly cleaning air vents is vital as any dust, dirt and debris can be removed. If you have opted for either office cleaning or commercial maintenance with the Facilities Company team, then this can be included in your package.
Keeping Your Workplace In Immaculate Condition!
While we are all focusing on cleanliness and hygiene during the pandemic, it is vital to ensure that you continue to follow these processes after COVID-19. It is hugely beneficial for your business to take extra care when it comes to cleaning, helping you to succeed in your industry. If you need assistance with any office cleaning services in Aylesbury or the surrounding areas, please do not hesitate to contact us!