A workout that many gym facilities forget to carry out regularly is cleaning and sanitising the equipment. Cleaning gym equipment is often overlooked as a part of fitness cleanliness when it comes to fitness centres. Although it may not be considered as part of maintaining health, preventing the spread of germs is just as important as a workout in remaining fit and healthy. A lot of people enter the gym throughout the day, bringing in germs, colds, coughs and more. Cleaning your equipment is a vital part of preventing the spread of germs between your members. To help you keep a healthy atmosphere in your gym, especially as flu season draws closer, here is a guide on the best way to clean gym equipment.
A Guide On The Best Way To Clean Gym Equipment
As winter approaches, it is more important than ever to ensure that your gym is spotless and free from germs. By not cleaning your gym equipment regularly, the build-up of germs and sweat can make for a dangerous and unhealthy environment. Obviously, it is impossible to constantly maintain the hygiene of members walking in and out of the gym; however, there are some measures that you can take in order to promote hygiene.
Why Is It Important To Have Clean Gym Equipment?
There are multiple reasons why you should keep your gym and the equipment within it clean. Obvious reasons such as maintaining a clean space for people to work out and providing an environment where people are less likely to pick up nasty colds and winter flues. Although these reasons are extremely important, they are not the only reasons why you should be keeping control of equipment cleanliness.
Your business runs on membership numbers which allows you to continue providing the service that you do. Any unsanitary environment will not encourage members to come back, and some people may compare your gym to your competitors. It is imperative that you ensure that your gym maintains a high standard to outdo your competitors. Gym cleanliness will have a big impact on your customers as well as the success of your gym facilities. According to a study carried out by International Health, Racquet and Supportslub Association (IHRSA), cleanliness is an extremely powerful agent in boosting membership satisfaction. The study stated that members who find their gym to look and feel clean are more likely to recommend the gym to friends and family, which will inevitably boost your revenue. For more information on ways to improve your business, you can take a look at IHRSA's website. Here you can find tips on improving your business for yourself as well as your clients.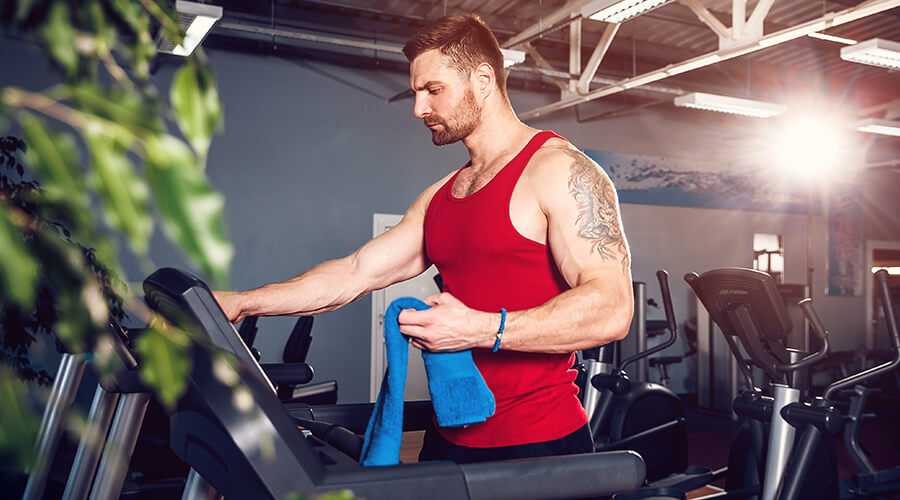 The Ability To Clean
Cleaning gym equipment can be an excessive task that takes a lot of time to complete. However, keeping on top of cleaning will make it easier to clean regularly. Make sure that when you clean your equipment that you remember every nook and cranny to ensure that the whole facility is sparkling clean. CleanFreak.com has a helpful checklist that you can download to use within your gym. With this checklist, you can make sure that you remember every element of the gym and ensure that it gets signed off every day to keep on top of hygiene.
While making sure that your staff are cleaning equipment frequently is essential, you should also leave sanitisers and cleaning facilities available to customers. Placing hand sanitiser pumps around the gym will help encourage customers to clean their hands regularly. Likewise, with equipment, make sure that there are sanitising wipes available so that customers are able to clean down equipment after using it.
Using The Right Products
When cleaning gym equipment, you need to make sure that all the products you use not only smell nice but can actually get rid of odours, stains, sweat and sanitise. Sanitising wipes are the first step to cleaning your gym equipment. These wipes will eat away at bacteria and can kill 99% of germs, making your gym more hygienic.
Although wipes are a good way to make sure that you wipe every inch of the equipment, it may not be the most effective method of getting rid of germs and foul odours. Using a heavy-duty disinfectant spray will make any germs, bacteria or disease disappear. By using the spray, you will find it easier to get into areas that are harder to reach and therefore, the equipment can have a thorough clean.
An unusual technique for getting rid of odours is to scrub your equipment with vinegar and baking soda. Once you have thoroughly cleaned the equipment, go over with the disinfectant spray, and the bad smell odours should have disappeared. Most gym equipment has leather seating or leather handles; for this reason, you could also use a leather spray that specifically aims at cleaning this material.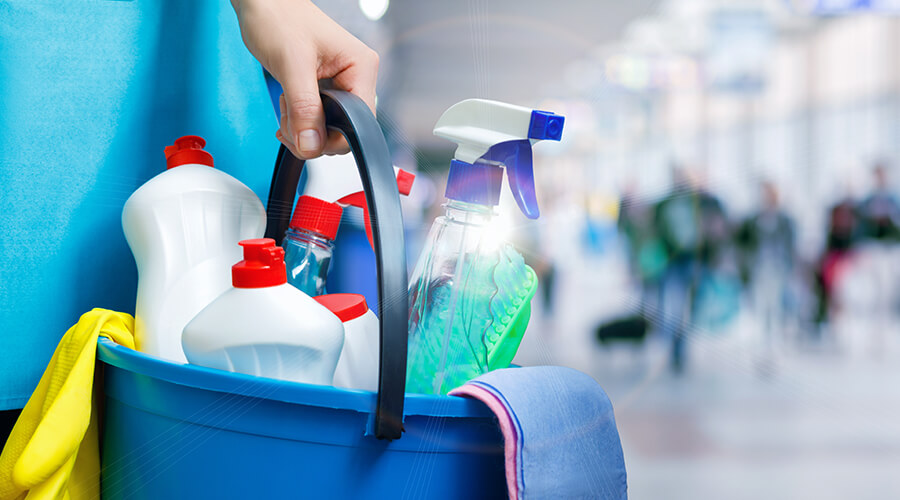 Avoiding The Wrong Products
Using the right products can aid you in cleaning your equipment and ensuring that it is germ and sweat-free for your members. However, just as much as products can help you, the wrong ones can actually damage your equipment and possibly not clean them effectively. There are specific products that you should avoid when choosing your cleaning solutions. These products include:
Bleach – although bleach does kill germs, it is an unsafe chemical to use within your gym premises. If this chemical is not prepared or used correctly, then it can ruin the equipment, your member's clothing and can be extremely dangerous if it is inhaled or touches your skin.
Borex Solution – many people use this natural cleaning product for cleaning, and it is an effective way of removing product residue. However, it will not disinfect your equipment or kill any germs that fester.
Hydrogen Peroxide – this is probably one of the worst products that you can use to clean your gym equipment. Hydrogen peroxide can irritate your skin or even cause a rash. This would most definitely not be ideal when trying to encourage members to return and draw in new members.
When choosing your cleaning products, make sure that you do your research into the chemicals that are used within it. You want to make sure that the product works effectively and will also not cause health problems or danger to your members. The best mindset to have when thinking about buying cleaning products, is to question whether you would use these products in your own home. Make sure that you pick products that will work effectively rather than choosing them for their smell. You can also pick air fresheners so that once you have cleaned your equipment, you can leave a luscious smell.
How To Clean Gym Equipment
As commercial cleaners in Milton Keynes, we have years of experience in tackling stubborn smells and stains. So, if you are struggling to maintain a routine, then consider following our method on cleaning gym equipment. To clean your gym facility, you will need the following products:
Once you have all of your cleaning products, you're ready to start scrubbing away foul odours and annoying stains. Follow these simple steps:
Before you begin to clean, remove any stains that your equipment may have by scrubbing them down with your stain remover.
To start cleaning, begin by spraying the Ammonia spray onto all of your equipment, not forgetting smaller pieces such as light dumbbells.
Using one of your disinfectant wipes, wipe down your equipment to remove ammonia residue.
For the next step, you will need to make sure that all of your equipment has been sprayed with anti-bacterial. This step is important to ensure that your gym is safe to use from a health perspective.
Once you have sprayed your equipment with anti-bacterial spray, rub in the solution with the disinfectant wipes.
As you can tell, it is relatively simple, quick and easy to clean your gym equipment. However, if you do not keep on top of cleaning, then it will become a harder and more tedious job in the future.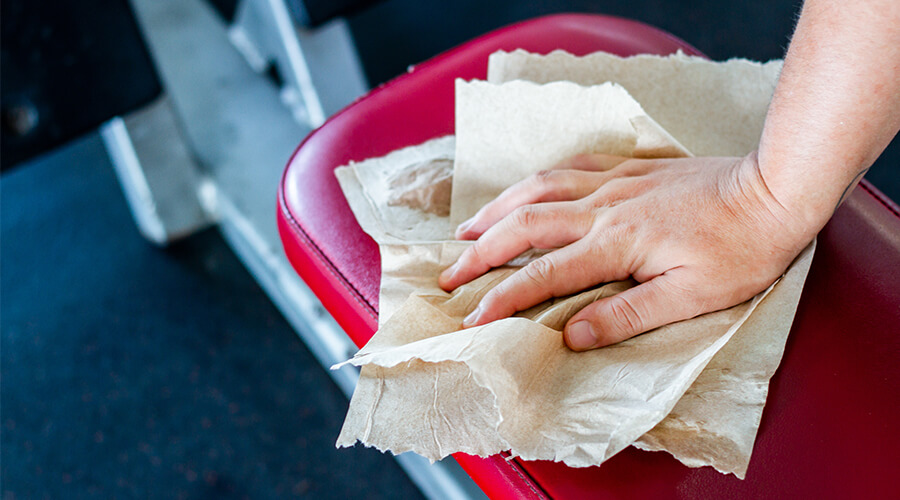 Bring In The Professional
While cleaning regularly will help your gym to remain clean for your members, it may be necessary to have your gym disinfected and thoroughly cleaned by a professional cleaning service. Professional cleaners will have the most effective products and equipment for thoroughly cleaning a commercial site. You can decide whether to have professional cleaners come in once a week, every other week or once a month. Obviously the more frequently you have a cleaner, the better your gym equipment will look and smell.
If you would like to know more about what our cleaning company in Towcester and the surrounding areas can provide you, our team members are more than happy to discuss our services. The Facilities Company provides interior and exterior cleaning of a building, washing and polishing your equipment and ensuring that all areas are germ-free with intensive sanitising. From carpet cleaning in Towcester to commercial maintenance, we have you covered.
Don't Sweat It
Cleaning should not have to be a chore that you dread to complete, it should be a quick task that you perform to ensure the health or your members and protect your gym image. Following our guide on cleaning your gym equipment will make your gym look and smell sparkling clean every day. If you have neglected your gym equipment for some time and need help from a professional, please do not hesitate to contact our team.